Are we nearly there?
Published
Yes, that time of year is rolling round again, when several hours incarcerated in the car drives parents and children up the wall!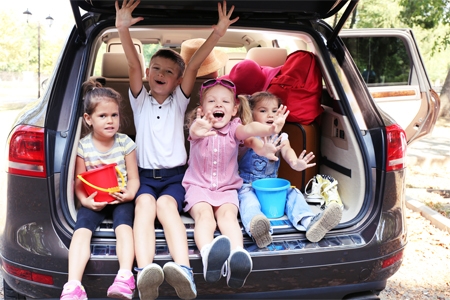 A long car journey with children is never a good start to those long-awaited holidays, but a useful new survey* reveals some practical (and sometimes rather unconventional) ways the whole family can survive it. Among the most popular is playing classic car games such as iSpy, which nearly half of all families surveyed enjoy.
Looking at journeys of more than two hours, parents in the survey were asked their most effective techniques for keeping everyone happy, and the top 10 responses were:
1. I spy with my little eye Nearly half (48 per cent) of parents say they use classic car games.
2. Can we listen to it again, and again, and again? Nearly a third (32 per cent) listen to their child/ren's favourite song on repeat.
3. Have a sweetie! One in four (24 per cent) of parents admits to bribing their children with treats and sweets.
4. Flexible bedtimes Nearly a quarter (23 per cent) allow their children to stay awake in the car later than their usual bed time.
5. Make a mess Nearly a quarter (23 per cent) say they are more relaxed about the mess being made by children in the car on long rides.
6. First person to see the Golden Arches / See the sea One in five (21 per cent) bribes their children to behave with the promise of a visit to a fast food outlet.
7. The great iPad solution! One in five (20 per cent) allows for electronic devices to be used for longer than they would normally allow at home.
8. Don't forget the headphones Another 20 per cent provide headphones for electronic devices so they don't have to listen to the game, YouTube video or film.
9. Just another 'H' 'O' 'U' 'R' to go 10 per cent speak in code about distance to destination and possible rest stops so children don't pick up on the conversation.
10. Get the beer and wine on ice! 11 per cent of parents survive by visualising their first pint or glass of wine on arrival!
*Survey carried out by Opinium, and commissioned by iCarhireinsurance.com, a leading provider of stand-alone car hire excess insurance.