Right Start Awards 2024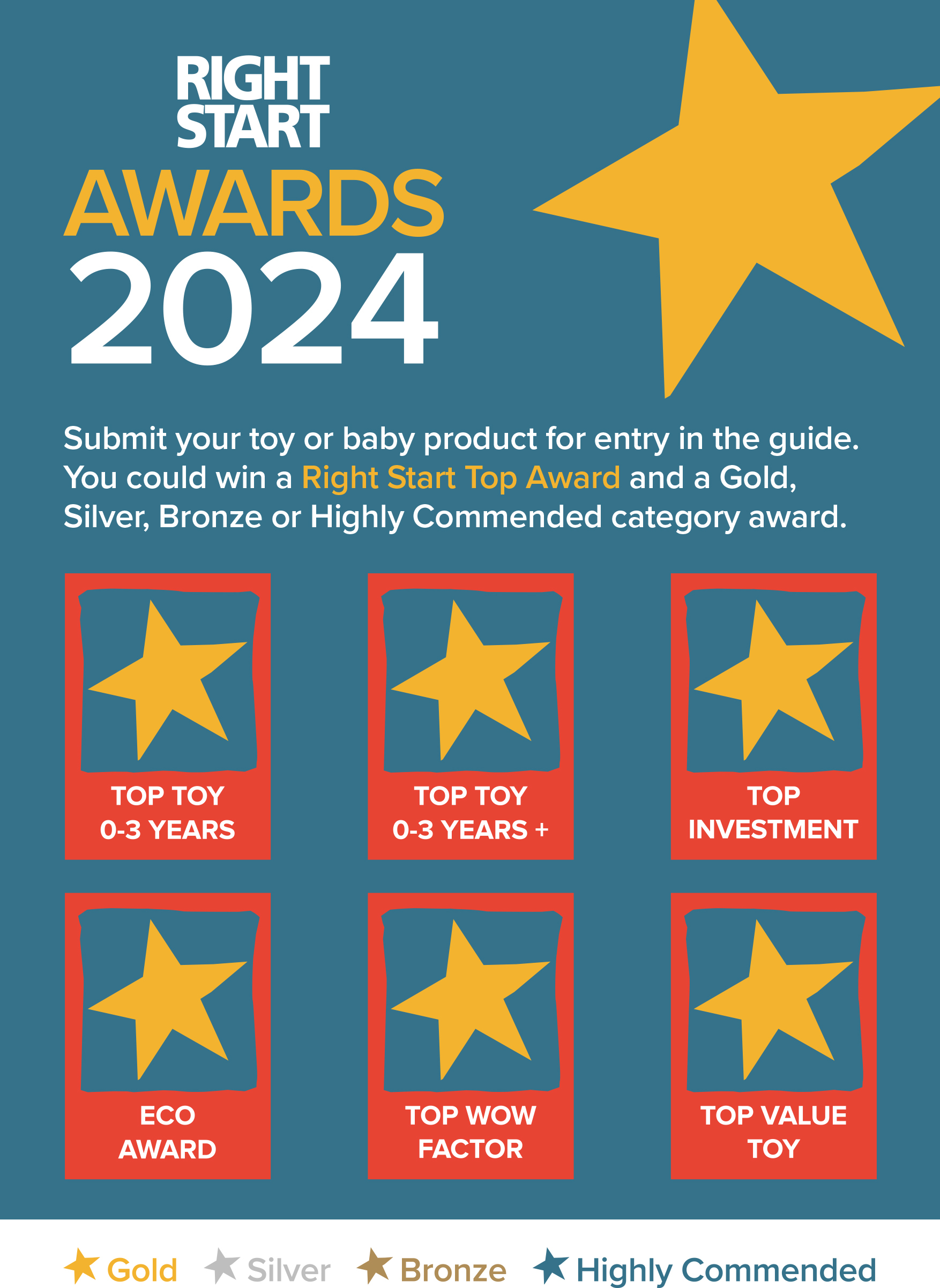 The annual Right Start Awards are a hallmark of excellence. Hundreds of toys, books, software, and baby products are put through a stringent testing process to ensure that they offer children the highest quality.
Toys & Baby Essentials are combined into one comprehensive guide. The best products will be featured, free of charge, in the Right Start Awards Guide 2024, distributed to Tumble Tots members in the run up to Christmas.
Each selected product in the guide is accompanied by a full editorial review and image. Winning products will also appear on the Right Start Online website.
All companies featured in the 2024 Awards Guide will be able to obtain Winners' Logos free of charge, for use on packaging and in marketing.
We are also offering top award winners the chance to take free advertising on the website.
You can enter in any one of the categories below, including:
Baby Essentials
Pregnancy & new mum
Maternity wear, toiletries etc.
Baby essentials
Feeding, toiletries, bathtime

Baby toys
First toys for babies under two
Nursery kit
Furniture, bedding, gadgets

Out & about
Pushchairs, car seats, travel
Toys from 2-8 years+
Active
Scooters, sit 'n rides, garden toys etc.
Art & craft
Craft, drawing and painting
Books
Activity, fiction/non-fiction
Imaginary
Role-play, dolls, playsets
Games & puzzles
Traditional and new
Construction
Hands-on building toys
Technology
Mini i-pads, tablets, apps
Pocket money toys
Toys under £10
Top Awards include: Top Toy 0-3 years, Top Toy 3 years+, Top Value, Top Investment, Top Wow Factor, Eco Award.
Category Awards include: Gold, Silver, Bronze, Highly Commended.
1. Cost of entry is £180 per product plus £36 VAT. Please include your invoice/receipt address with all entries.
Closing date is Tuesday 30th April 2024.
2. One sample of each product for testing should be sent to our testing manager by Tuesday 14th May 2024 - details provided on entry
3. Every product must be supported by an image. Please supply images (with clipping paths if possible) by email to info@rightstartonline.co.uk, putting RSA Images in the subject bar and labelling each image with the product name. All images must be sent at time of entry.
MULTI ENTRY DISCOUNT
Enter 3 or more products and you'll receive a 20% discount.
The first 2 entries will be charged at £180 + VAT
The 3rd and all subsequent entries will be charged at £144 + VAT
Terms and Conditions
Entries without fee cannot be processed . There can be no refund following entry. Each product can only be entered once. Products arriving after the closing date, or to the wrong address, may not be considered . We accept toys up to age 8+ . Age range is defined by guidelines on packaging . We reserve the right to move products between categories . Samples are not returnable . We cannot accept prototypes to test . Products must be available instore from the beginning of November 2024.