Veg out!
Published
Jump on the bandwagon and discover how vegetarian dishes suit your family. We've selected three that are so simple and delicious that you may never want to go back!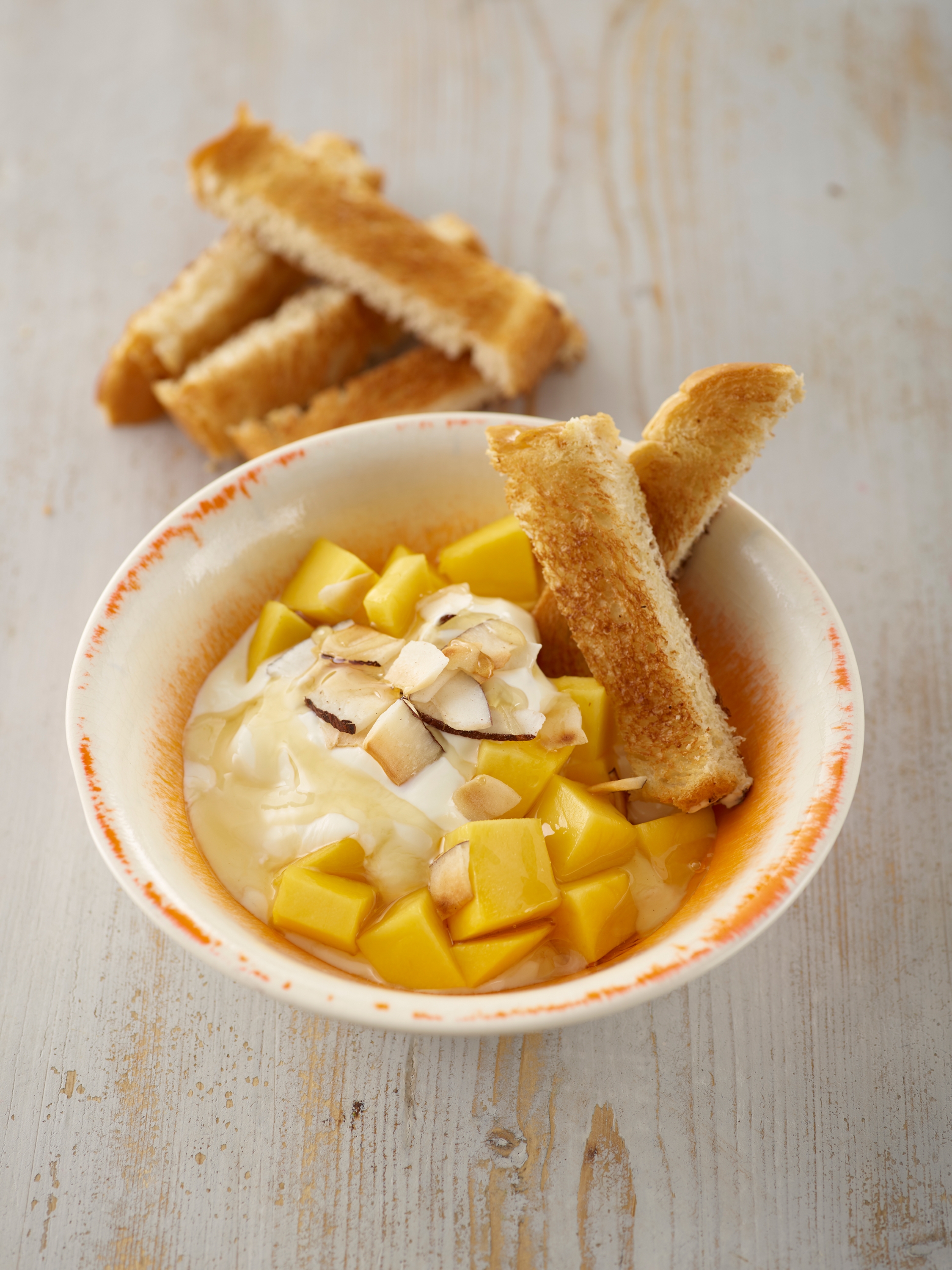 MANGO YOGHURT WITH TOAST DIPPERS
This is a simple and healthy way to start the day – the juicy mango is delicious with yogurt. You can also add fresh coconut or a drizzle of runny honey.
Serves 2
Prep 10 mins
Ingredients
200g (7oz) Greek natural yogurt
1 mango, halved, pitted, and chopped
2 slices of brioche, lightly toasted
2 small pieces of fresh coconut, sliced and toasted (optional)
drizzle of runny honey (optional)
Spoon a little yogurt into two bowls, then add the chopped mango.
Sprinkle with toasted coconut and drizzle with honey, if using.
Slice the brioche into fingers and serve with the yogurt.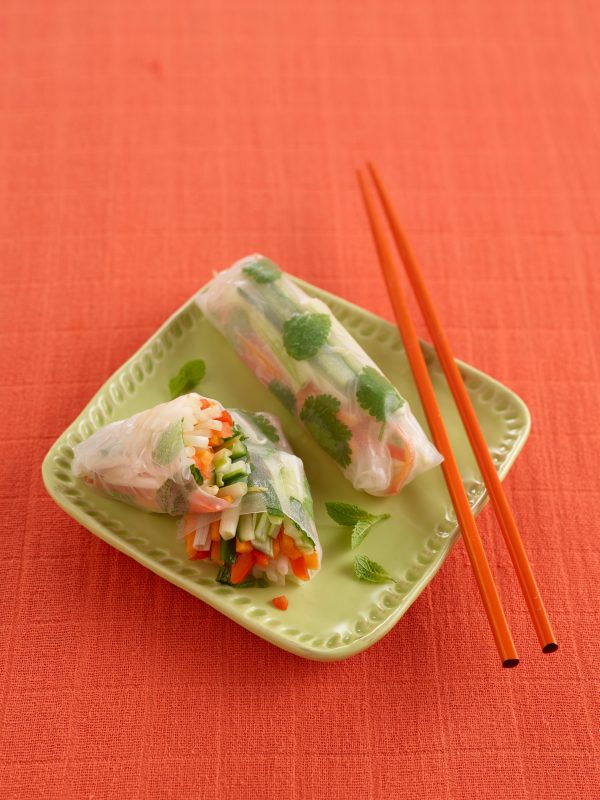 CHINESE ROLLS
These are really simple to make as you do not need to cook these fresh spring rolls. You can be as adventurous as you like with the filling.
Makes 24
Prep 30 mins
Chill 15 mins
Ingredients
24 rice paper wrappers, about 22cm (8 1⁄2 in)
large handful of mixed leaves
200g (7oz) beansprouts
2 red peppers, deseeded and sliced into fine strips
2 carrots, peeled and sliced into fine strips
bunch of spring onions, trimmed, halved, and finely sliced lengthways
1 cucumber, halved lengthways, seeds removed, and sliced into fine strips
handful of fresh basil leaves
handful of fresh mint leaves
For the dipping sauce
4 tbsp dark soy sauce
2 garlic cloves, finely chopped
1 small red chilli, finely chopped
1 tbsp finely chopped fresh ginger
2 tsp golden caster sugar
juice of 1 lime
Fill a large bowl with cold water and add the rice paper wrappers one at a time.
Pat with your hands until they start to feel just pliable; don't soak too long or they will tear. Sit the paper wrappers on a damp, clean tea towel.
Top each wrapper with a few leaves first. Then, top with some of the beansprouts, peppers, carrots, spring onions, and cucumber. Sprinkle over a few herbs.
Bring the bottom of the wrapper up over the filling and roll tightly.
Fold the edges in and continue rolling until it is good and tight. Repeat with all the remaining wrappers.
Put all the ingredients for the dipping sauce into a bowl, mix well, and serve with the rolls. When ready to serve, carefully slice each roll across in half and arrange on a large plate with the dipping sauce.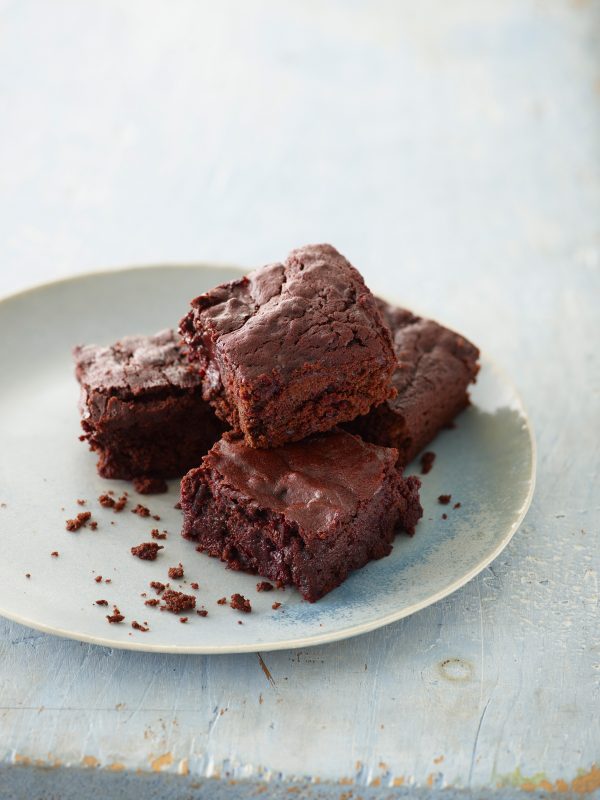 BEETROOT BROWNIES
These are good and squidgy, as brownies should be – the grated beetroot keeps them moist and makes them a little bit healthier.
Makes 12
Prep 20 mins
Cook 1 hour
Ingredients
250g (9oz) raw beetroot
200g (7oz) dark chocolate, broken into even pieces
200g (7oz) unsalted butter, cubed, plus extra for greasing
200g (7oz) golden caster sugar
3 eggs
150g (51⁄2oz) self-raising flour
50g (13⁄4oz) dark chocolate cocoa powder
Special equipment
22cm (8in) square baking tin, 3–4cm (11⁄2in) deep, greased
Preheat the oven to 180°C (350°F/Gas 4). Carefully add the beetroot to a pan of boiling water. Then reduce the heat to a simmer and cook with the lid on for 30–35 minutes, until tender. Drain well. When cool enough to handle, peel, grate and set aside.
In a heatproof bowl, add the chocolate and butter, sit the bowl over a pan of simmering water, and carefully heat until melted. Stir as it's heated. Remove from the heat and set aside.
Add the sugar and eggs to a bowl and whisk until well combined, then mix it with the chocolate.
Stir in the flour and cocoa, then stir in the grated beetroot until it is all mixed in.
Pour the mixture into the tray, smooth the top, and bake for 25 minutes. Poke a skewer into it to test that it is cooked. The skewer will be clean if the brownies are cooked. Carefully remove from the oven and leave in the tin to cool, then remove and slice into squares.
The Vegetarian Cookbook is published by DK, price £12.99. Visit www.DK.com