Sweet treat
Published
This easy snack recipe is gluten and refined-sugar free, and vegan: a delicious treat and healthy too. It's no-bake, so perfect for a cook-in with small helpers!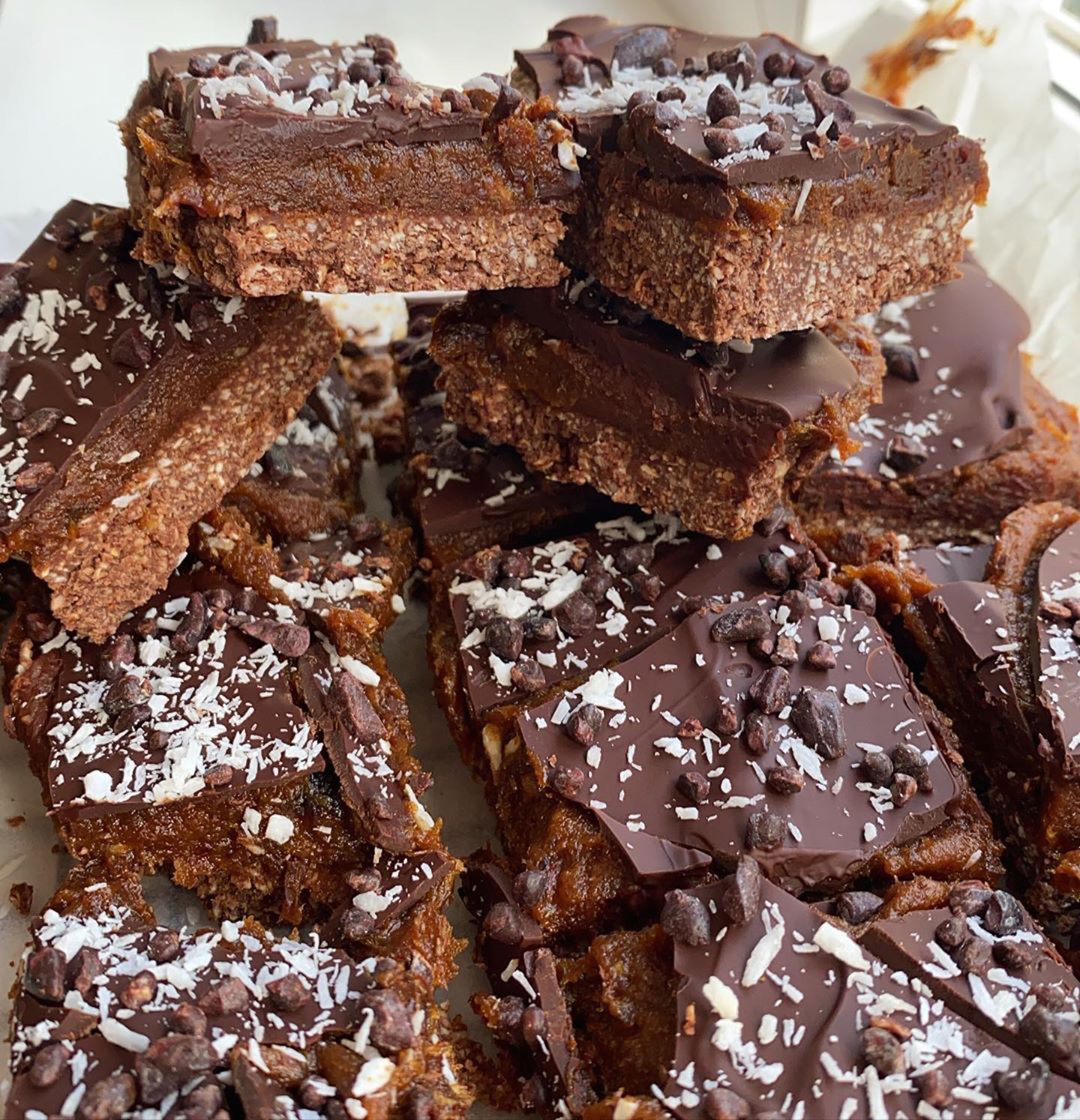 Vegan Cacao, Coconut and Caramel Slices
Ingredients to make 20 slices
200g gluten-free oats
6tbsp coconut oil
140g ground almonds
4tbsp cacao powder
4tbsp YaconViva Yacon Syrup
1.5tsp vanilla extract
500g stoned sayer dates (soaked in boiling water for 10 mins then left to drain)
4tbsp nut butter of your choice
4tbsp plant-based milk
½ tsp vanilla extract
300g vegan chocolate
A handful of YaconViva Cacao Nibs
A handful of desiccated coconut
Method
1. Firstly, line your 9x9 baking tin with non-stick paper.
2. Then, blitz your gluten-free oats into a fine powder using a food processor or blender.
3. Melt the coconut oil in the microwave and add into the oat mix. Add in the ground almonds, cacao powder, YaconViva Yacon Syrup and a tsp vanilla extract and blitz until it comes together.
4. Press the mixture firmly into your lined tin, using the back of a spoon to ensure its tightly compacted.
5. Place into the freezer for at least 30 minutes to firm up.
6. Next, blitz the soaked and drained dates with the nut butter, plant-based milk and ½ a tsp of vanilla extract until it forms a paste. Ensure it's completely smooth.
7. Bringing the tin out of the freezer, layer this paste on top, ensuring it's a smooth covering. Pop back into the freezer for another 30 minutes minimum.
8. Finally, melt the chocolate down in the microwave. Layer on top of the second layer and top with YaconViva Cacao Nibs and the desiccated coconut as quickly as possible before putting back into the freezer for the last time. Leave in the freezer for at least an hour before slicing. Enjoy!
YaconViva Yacon Syrup is £9.99 (RRP) for a 220g bottle.
YaconViva Cacao Nibs is £8.99 (RRP) for a 300g pack.
Available from www.amazon.co.uk, good health stores and from yaconviva.co.uk