Mother's Day recipes
Published
To celebrate this special day, show your Mum how much you care by spoiling her with one of these tasty treats!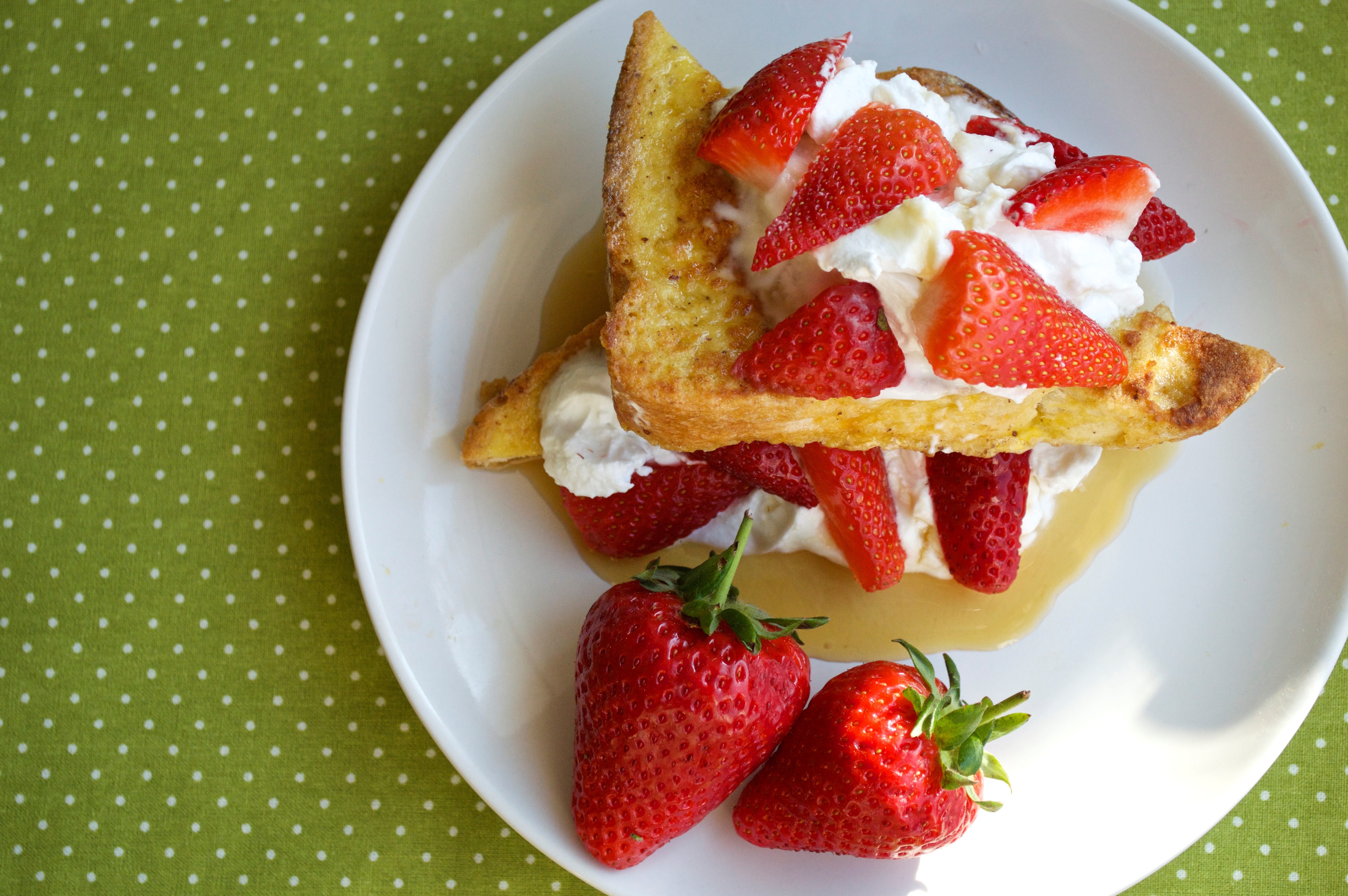 FRENCH TOAST

Ingredients

2 eggs
Pinch of cinnamon (optional)
4 slices fresh bread (can be gluten free)
Knob of butter and splash of sunflower/vegetable oil
To serve
Large handful of strawberries
Dollop of Greek yogurt
Drizzle of maple syrup
Sprinkle of seeds / toasted flaked almonds (optional)
Method

Chop strawberries into quarters and set aside.
Whisk eggs in a shallow dish with cinnamon (if using), then submerge bread in the egg, ensuring it is thoroughly soaked. Little ones will enjoy getting involved in this part!

Heat a little butter and a splash of oil in a frying pan, and fry eggy bread over medium heat for approx. 3 minutes each side, until golden.

Get your little ones to stack the French toast on a plate, add a dollop of yogurt, a handful of chopped strawberries and a drizzle of maple syrup.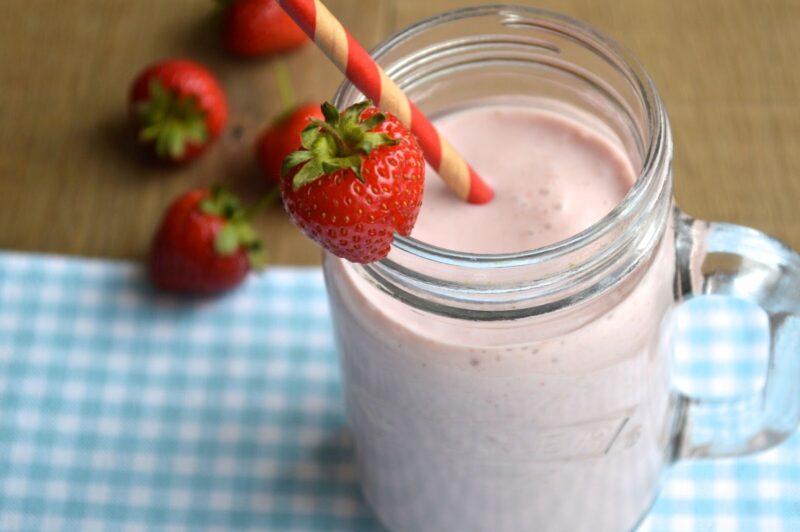 STAWBERRY SMOOTHIE

Ingredients

5 medium strawberries

½ banana

100g low fat natural yogurt

50ml milk
Method
Wash the strawberries and remove the stalk.

Place everything in the blender and blend until smooth.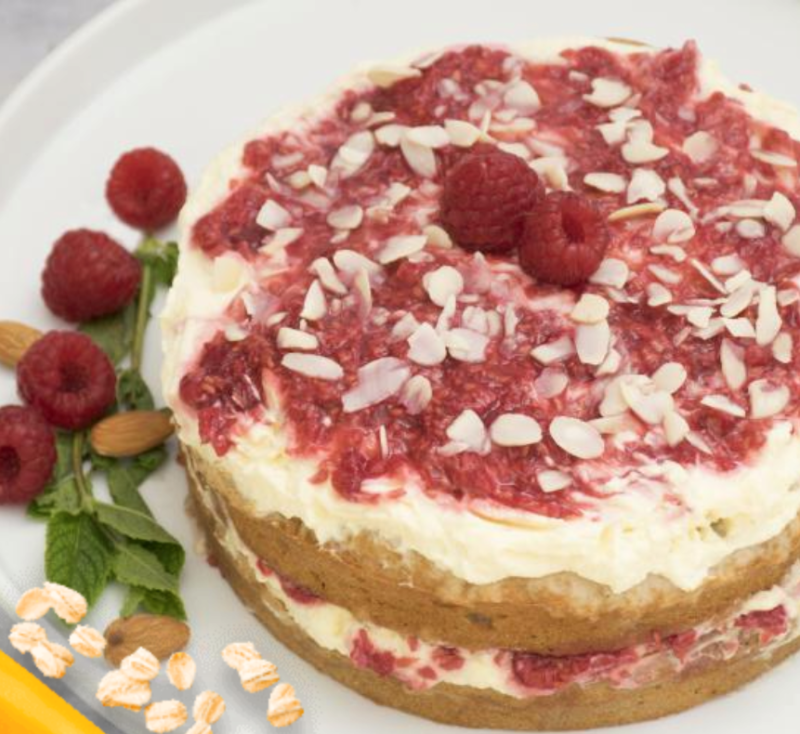 RASPBERRY VICTORIA SPONGE

For the sponge:
200g fresh raspberries
1 tbsp maple syrup
250g unsalted butter (room temperature)
60mls maple syrup
2 tsps vanilla extract
4 eggs
300g self-raising flour (or a gluten free option)
Filling and topping:
400mls double cream
200g fresh raspberries
4 tbsps maple syrup
Fresh rapsberries and sliced almonds to decorate (optional)
Method
Preheat your oven to 180°C, 160°C fan, Gas Mark 4. Grease and line two 20cm sandwich tins with non-stick baking parchment using a little extra butter. Top tip: you can use the left over butter on the butter wrapper for this and it's a great job for little ones.

Make the raspberry puree by blending the raspberries and a table spoon of maple syrup in a blender until perfectly smooth.

In a large bowl beat the butter with the maple syrup and 1 tbsp of flour until soft. Add the mango raspberry puree and vanilla extract with 2 tbsps of flour and beat in or you can use an electric cake mixer with the paddle attachment. Add the eggs one at a time with 1 tbsp of flour with each egg added. Beat in thoroughly (the flour stops the mixture from splitting, which happens if it's too wet).

Sieve in the rest of the flour gradually and fold lightly into the mixture using a metal spoon (you want to keep as much air as possible in the mixture – so be careful not to over mix it). Why not let little ones have a stir or press on and off on the mixer.

Divide the mixture evenly between the two sandwich tins. Smooth over lightly, then bake for 20 minutes or until golden and springy to the touch. Insert a knife to check they are cooked – it should come out clean. Leave in the tin for 10 minutes to cool a little, then move onto wire rack to cool completely.

Once the sponge is completely cool, whip the cream until thick, then very lightly stir through 2 tbsps of maple syrup. In a separate bowl, mash the raspberries and stir in 2 tbsps of maple syrup. To assemble the cake, spread ½ of the cream mixture onto the bottom of one of the sponges and drizzle ½ of the raspberry mixture over the cream. Place the second sponge on top and repeat the last step with the rest of the cream and raspberry mixture. Decorate with fresh raspberries and sliced almonds if you wish.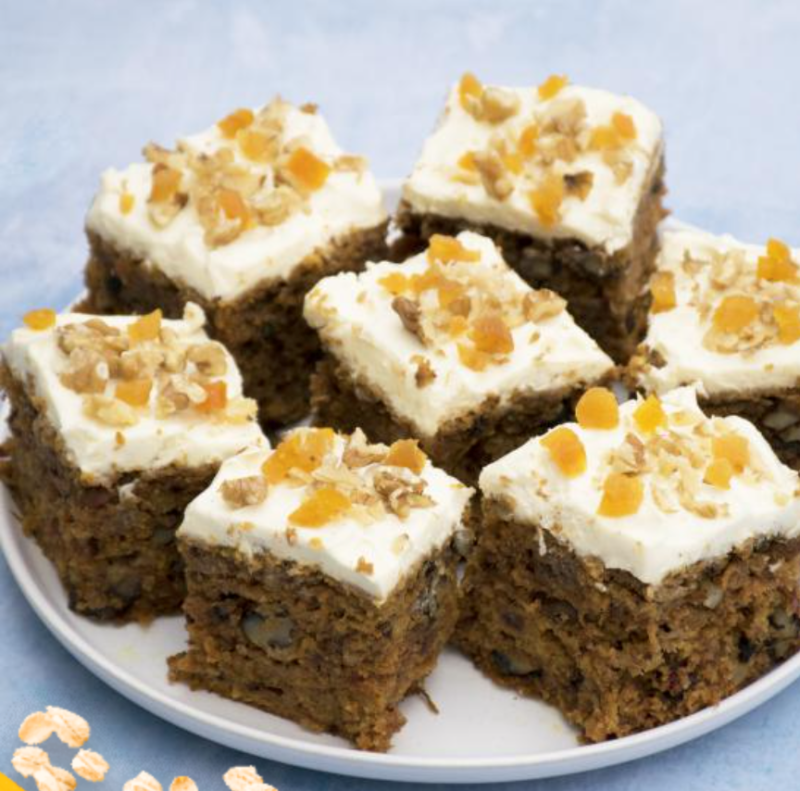 CARROT CAKE

For the sponge:
340g organic carrots
190g dates
200g plain flour
50g ground almond flour
1 ½ tsp baking powder
1 tsp baking soda
2 tsp cinnamon
120g chopped walnuts
3 large free-range eggs
240ml sunflower oil
100g sultanas
Topping:
225g cream cheese
1 tbsp honey
1 tsp vanilla extract
Chopped walnuts and apricot to decorate (optional)
Method
Cover dates with boiling water. Set aside for 10-15 mins. Wash and peel carrots. Grate them using the thin side of a cheese grater.

Preheat your oven to 160°C, 140°C Fan, Gas Mark 3. Grease and line a 20 x20 cm square cake tin with baking parchment.

In a large bowl, sift in flour, almond flour, baking powder, baking soda and cinnamon together, then add the nuts.

Drain dates, reserving the liquid. Puree the dates in a blender with 4 tbsp of the reserved liquid.

Beat the eggs until light and fluffy. Add the carrots, eggs, oil, dates and sultanas to the dry ingredients and mix thoroughly.

Pour the mixture into greased tin. Bake for 50-55 mins, or until a skewer comes out clean. Cool the cake in the tin for 10 mins before turning out onto a wired rack to cool further.

For the topping, beat the cream cheese until smooth, add the honey and vanilla extract and mix thoroughly. Spread on to the cooled cake. Decorate with chopped walnut and apricots.
Taken from www.organix.com/recipes