Have yourself a yummy little Christmas
Published
Enjoy cooking together as a family with our festive recipes.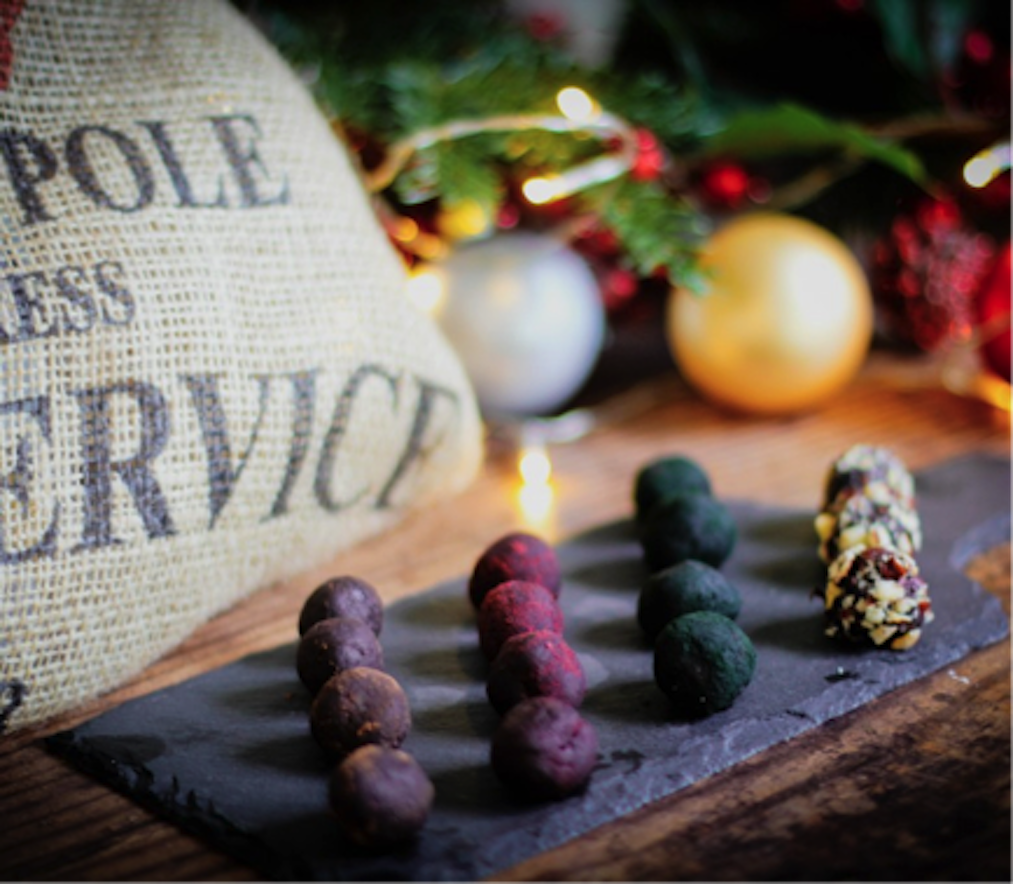 CHRISTMAS TRUFFLES
A yummy Christmas treat, these festive truffles are full of fibre, healthy fat, and natural
sweetness.
Prep: 20/30 minutes
Cook: 30 minutes (in the freezer/fridge)
Serves: 50/60 truffles
Allergens: Dairy, nuts (optional)
Ingredients:
180g dates
80g cacao powder (or cocoa)
80g butter or coconut oil
30g cacao nibs (or choc chips)
20ml milk (or dairy free alternative)
2 teaspoons vanilla essence
1 large orange
Coating options:
Hazelnuts
Beetroot powder
Spirulina
Cacao/cocoa powder
Freeze-dried strawberry pieces
Equipment:
Saucepan
Mixing bowl + 2 small bowls
Blender
Measuring scales
Spatula
Teaspoon
Dinner plate/tray
Parchment paper
Rolling pin
Sieve
Grater + kitchen roll
Instructions:
1. Pop the dates in a bowl and cover with hot water - leave to one side to soften

2. Melt the butter/coconut oil in a saucepan

3. Grate the zest of your orange over some kitchen roll and then cut the orange in half and squeeze the juice out into a small bowl (removing all pips)

4. Strain the dates and add them to a blender with the melted butter/coconut oil, vanilla essence, milk and 20ml of orange juice

5. Whizz until smooth - add a little more orange juice if the mix is too thick to blend

6. Use a spatula to scrape the mixture into a mixing bowl and then mix in the cacao powder and nibs until fully combined

7. Line a dinner plate or tray with baking paper and spread the mixture out until it is around 1cm thick - pop it in the freezer for 15 mins

8. Prepare your toppings! Bash hazelnuts with a rolling pin until they are broken into small pieces and then scatter them on a small plate. Spread cacao powder or any other toppings you are using on small plates. Sprinkle orange zest into the toppings to give a lovely chocolate orange flavour!

9. When the truffle mix is ready use a teaspoon to scrape small amounts of the mixture off and use your hands to roll it into balls about the size of a 20p coin (it should make around 50-60 truffles)

10. Roll the balls in your toppings and then pop in the fridge for another 15 mins before gobbling! Store in an airtight container in the fridge for up to a week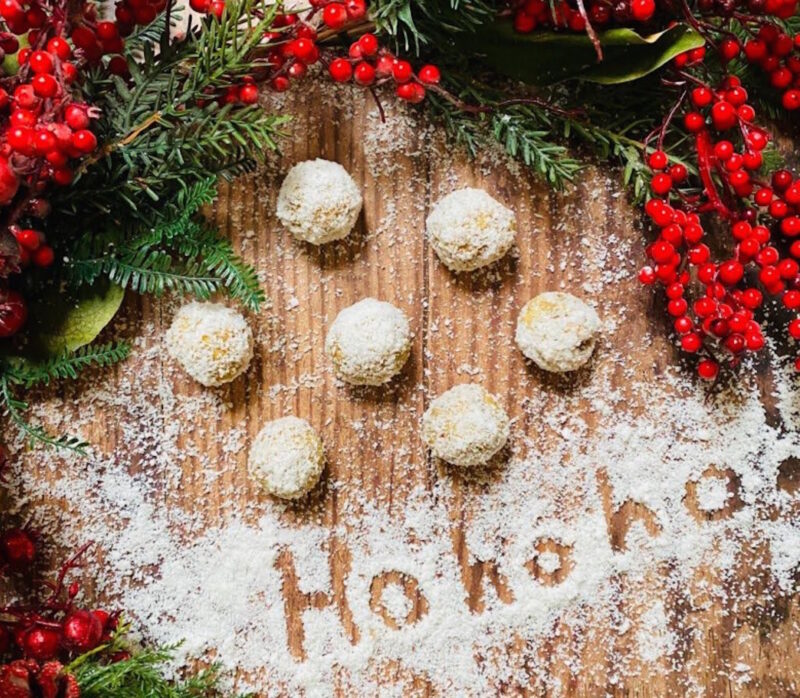 PECAN SNOWBALLS
Chewy and festive, these coconut snowballs are made all the more Christmassy with the addition of orange and a hint of nutmeg.
Prep: 15 minutes
Cook: 10 minutes
Serves: 20 balls
Allergens: Eggs, nuts
Ingredients:
3 egg whites
100g desiccated coconut (+20g for topping)
130g oat flour (or oats blended into flour)
1 tbsp cornflour
Pinch sea salt
Zest 1 orange (or zest 3 clementines)
A few good gratings of nutmeg (optional)
105g maple syrup or honey (+2 tsp for brushing)
50g pecans, crushed or roughly chopped
Equipment:
Large mixing bowl
Small mixing bowl
Grater / zester
Rolling pin (for crushing the pecans)
Scales
Measuring spoons
Blender
Baking tray
Parchment
Instructions:
1. Preheat the oven to 180c / 200C (non-fan) / gas mark 6 and line a baking tray with baking paper

2. Separate the egg whites from the yolks (save the yolks and use them in a fry up or scrambled egg for breakfast!)

3. Using an electric whisk, whisk the egg whites into stiff peaks and set aside

4. Combine the desiccated coconut, oat flour, cornflour, sea salt, zest and nutmeg, leaving a well in the centre

5. Use a rolling pin to bash the pecans into small pieces (in the middle of a clean tea towel works well!)

6. Add the egg whites, honey/maple syrup and crushed pecans to the well and mix to combine

7. Use a tablespoon to scoop the mixture and form it into balls just bigger than a 50p (it should make around 20). The mixture is a bit sticky, but it rolls well - you can rub oil into your hands to make it a bit less sticky! Place the balls on the lined baking tray

8. Bake for 10 mins until the tops begin to go golden

9. Blitz the remaining 20g desiccated coconut in a blender to make 'snow'

10. Mix 2 teaspoons of honey/maple syrup with a little water ready to roll the balls in

11. Allow the pecan balls to cool slightly and then roll each one in the honey/maple syrup mix and then in the milled coconut to create a snow effect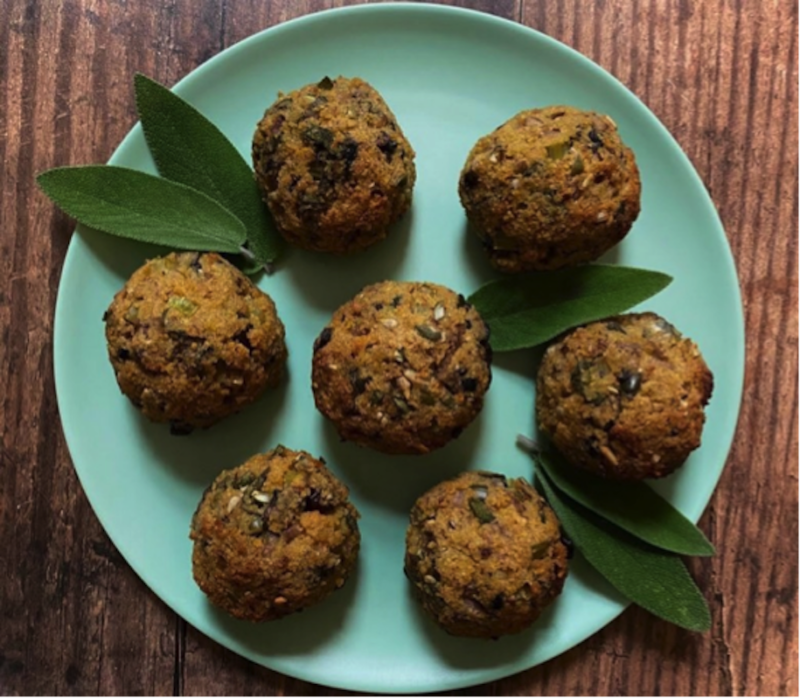 SAGE AND ONION STUFFING BALLS
This delicious festive stuffing – made using cornbread and packed with fruit and veg – is perfect for rolling in gravy, dipping in cranberry sauce and going with a yummy roast.
Prep: 20 minutes
Cook: 50 minutes
Serves: 18-20 balls
Allergens: Egg
Ingredients:
Cornbread ingredients
75g flour (we used sorghum flour but you can use any plain flour)
125g polenta
1/2tsp salt
10g baking powder
1tsp honey/maple syrup
50ml olive oil
175 ml milk (or dairy free alternative)
½ tsp vinegar
2 eggs, beaten
Stuffing ingredients
200g mushrooms, finely chopped
1 stick celery, finely chopped
2 medium onion, finely chopped
3 cloves garlic, finely chopped or grated
A good handful of sage leaves (about 25-30), chopped
30g pumpkin seeds, chopped
40g dried cranberries
2 eggs
12g milled flaxseeds
250ml stock
Equipment:
Scales
Mixing bowl x2
Whisk
Measuring spoons
Chopping board & knife
Baking tin around 20cm
Baking tray
Baking paper
Frying pan
Wooden spoon
Spatula
Instructions:
1. Preheat your oven to 180c / 200c non-fan / gas mark 6. Grease and line a 20cm baking tin and a baking tray with parchment

2. In a mixing bowl, mix together the dry ingredients, leaving a well in the centre. Add the wet ingredients (honey/maple syrup, oil, milk, vinegar and eggs) and whisk until combined

3. Pour the batter into the prepared tin and bake in the oven for 20-25 minutes until the top is golden. When cooked, remove from the oven to cool

4. While the cornbread cools, heat a splash of olive oil in a frying pan. Add the mushrooms, celery, onion and garlic, cook for 5 minutes until soft. Next add the chopped sage and cook for another 2 minutes. Set this aside to cool

5. While the veg cools, chop the pumpkin seeds and add to a large mixing bowl along with the cranberries, finely crumbled cornbread, eggs, flaxseeds and veg stock and mix with a spoon. Once the veg has cooled, add it to the mixture too

6. Make sure the mixture is cool enough to touch before squishing and shaping it into golf ball sized balls - it should make around 18-20 balls

7. Place the balls on the lined baking tray and drizzle with olive oil. Bake for 25 minutes until the outsides are crisp and golden

8. Serve with your usual trimmings and a bit of gravy or cranberry sauce for dipping!


All recipes created by Little Cooks Co

Little Cooks Co is a delicious, healthy and fun recipe kit, for kids, delivered straight to your door from £8.33 per month. Visit www.littlecooksco.co.uk