Christmas baking
Published
'Tis the season to be jolly and bake your favourite Christmas treats! Our friends at Little Cooks Co have put together some healthy festive recipes to help make your Christmas the most wonderful time of the year!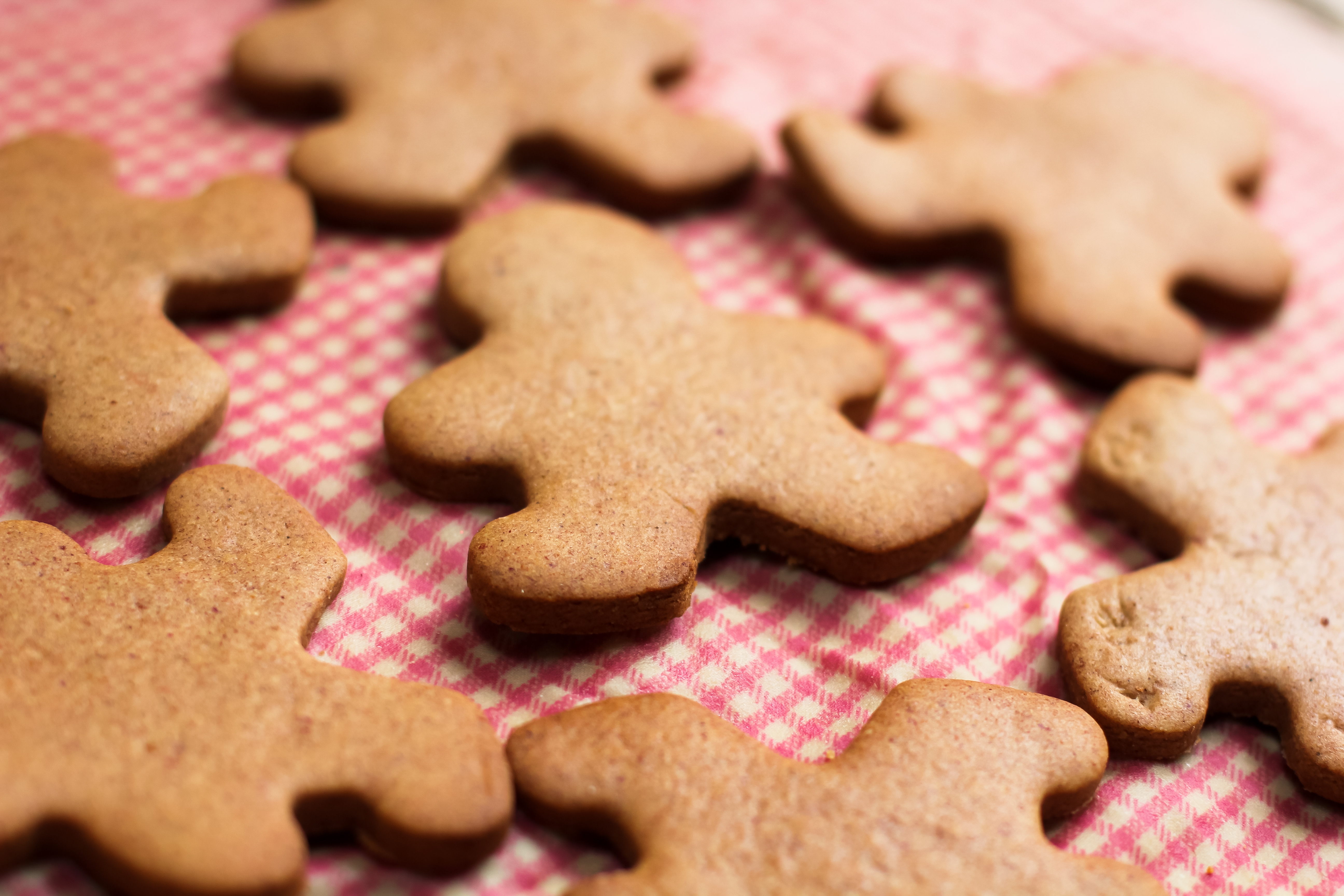 Gingerbread biscuits

Prep: 20 minutes
Cook: 12 minutes
Serves: 15-20 biscuits, depending on the shape of your cutter
Allergens: Nuts & Dairy (optional)
Tasty Tip: Make sure to pop them straight into tupperware once cooked, otherwise they go a bit too crunchy!
Did you know...
Ginger is one of the best immune strengthening foods around! Gingerol (the active ingredient) can stop bacteria from growing inside your body and is a powerful anti-inflammatory
Ingredients you'll need:
40g butter (or coconut oil if you prefer no dairy)
50g honey
120g buckwheat flour
70g dates
50g tapioca flour
40g ground almonds
2 teaspoons ginger
2 teaspoons cinnamon
½ teaspoon bicarbonate of soda
½ teaspoon Himalayan salt
Implements:

Food processor
Spatula
Tupperware
Measuring scales
Rolling pin
Biscuit cutter – any shape you like!
Cooking instructions

1. Preheat the oven to 160c (170/180c if not fan assisted)
2. Place the dates in a bowl and cover with boiling water for 5 minutes to soften them
3. Drain the dates and add them to a food processor together with all the dry ingredients in your box
4. Whizz together for 1-2 minutes and then add the honey and butter, and whizz for another 2-3 minutes until the mix is dough like (see pic). If it seems too crumbly, add a little more honey and whizz again
5. Carefully remove blade from the food processor and then shape the mixture into a big ball with your hands
6. Place the ball on a piece of parchment paper and roll to about 5mm thick – if the mixture sticks to the rolling pin you can put your other piece of parchment paper on top of the dough and roll
7. Use a biscuit cutter to cut your dough and place the biscuits onto a baking tray with parchment paper on
8. Keep re-rolling the dough until you have used it up!
9. Bake for 12 minutes – don't worry if they don't look golden, any longer and they will be too hard! Store in Tupperware for 5 days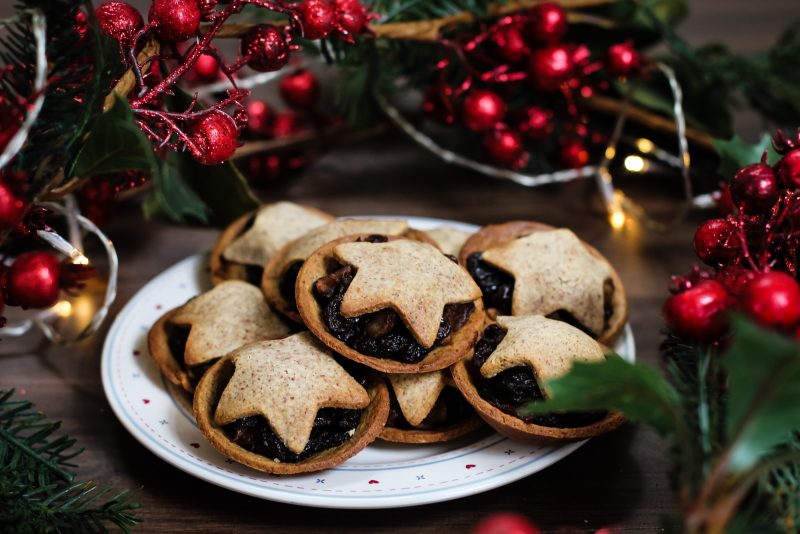 Mince pies

Prep: 30-40 minutes
Cook: 12-15 minutes
Serves: 12 mince pies
Allergens: Nuts & Dairy (optional)
Tasty Tip: These are delicious served warm, and with a dollop of cream!
Cooking tips...
-Peel and chop the apples before you start cooking as its quite-time consuming
-If the dough sticks when you roll it, ass a little flour to it (ideally almond but any will do!)
-Don't worry if the pies don't look golden after 7 minutes in the oven – if they brown too much they don't taste as nice!
Ingredients you'll need:
3 apples – peeled, cored and chopped into small pieces
Juice of 1 orange
1 egg
1 dessert spoon of honey
140g almonds
60g walnuts
90g raisins
90g dried cranberries
1 teaspoon cinnamon
1 teaspoon ginger
½ teaspoon bicarbonate of soda
½ teaspoon salt
Implements:
Food processor
Chopping board & knife
Spatula & wooden spoon
Saucepan & lid
Cupcake tray
Rolling pin
Pastry cutters
Cooking instructions
1. Preheat the oven to 160c (170c if not fan assisted)
2. Place the almonds and walnuts in your food processor and blitz until ground – check every 30 seconds
3. Add the egg, honey, salt and bicarbonate of soda and then blitz again until a dough forms (around 1 minute)
4. Carefully remove the blade and shape the dough into a ball (use a spatula to scrape the mix off the sides if needed) and pop in the fridge while you start making the filling
5. Heat the butter, chopped apple, raisins, cranberries, cinnamon, ginger and juice of 1 orange on a low heat with the lid on for around 15 minutes. Stir regularly – if it starts to stick, add a little water
6. Whilst the filling is cooking take 2/3 of the dough and roll it between 2 pieces of parchment paper to about 2mm thick
7. Use a circular cutter to cut 12 pie bases and pop them in a greased cupcake tray – bake for 5 minutes
8. Once baked, fill each base with a heaped teaspoon of the filling
9. Roll the remaining dough and cut into 12 smaller circles or stars and place on top of each mince pie. Bake for 7 more minutes and allow to cool before gobbling!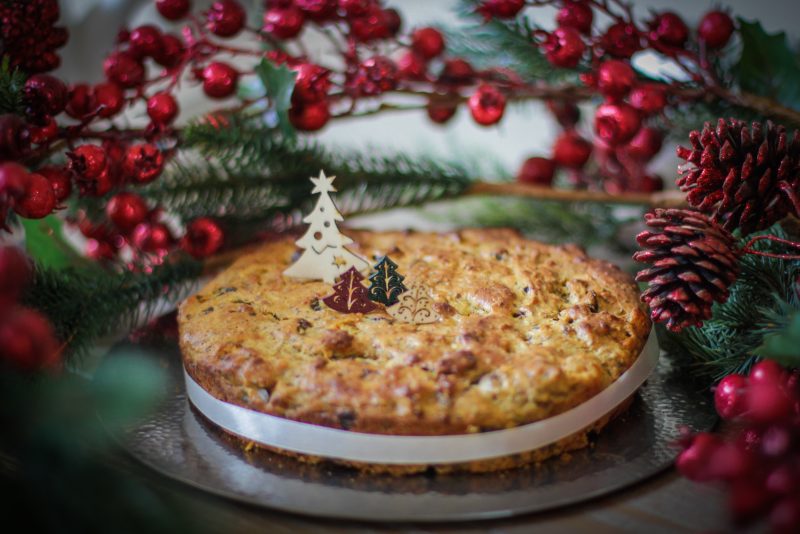 Christmas Fruit Cake
Prep: 20 minutes
Cook: 50 minutes
Serves: One Christmas Cake
Allergens: Egg & Dairy (optional)
Tasty Tip: No licking the bowl with this recipe unfortunately! Gram flour needs to be cooked to taste yummy
Did you know...
This cake is sweetened with dried fruit. Dried fruit is made by taking the water out of fresh fruit so it looks smaller and more shriveled! But what is left is still full of minerals and fibre which are really important for keeping us healthy
Ingredients you'll need:
3 medium/large oranges
2 eggs or vegan equivalent
80g butter or coconut oil
180g gram flour
100g pitted dates
55g raisins
35g chopped apricots
30g chia seeds
1 teaspoon Ceylon cinnamon
1 teaspoon ginger
1 teaspoon baking soda
Implements:
Chopping board and knife
Mixing bowl, 2 x small bowls
Measuring scales
Small saucepan
Wooden spoon
Whisk or fork
20cm/8" cake tin
Sieve
Grater
Cooking instructions
1. Preheat the oven to 150c (160c if not fan assisted)
2. Grate the zest (skin) of one of the oranges on the smallest setting
3. Cut all of the oranges in half and squeeze the juice out of them into a bowl until you have 200ml of juice – you can use your hands or a juicer
4. Pour the juice and the zest into a large mixing bowl and stir in the chia seeds
5. Carefully chop the dates into small pieces and then stir the dates, raisins and apricots into the orange and chia mix, and let it sit for a few minutes
6. Line your cake tin with parchment paper and grease the paper (this will stop the cake from sticking)
7. Gently melt the butter/coconut oil in a saucepan and pour it into the cake mix
8. Next, whisk the eggs in a small bowl and add them to the mix and then sieve the gram flour, spices and baking soda in, and stir everything thoroughly
9. Pour the mixture into your cake tin and bake for 50 minutes – keep an eye on it from 45 minutes to make sure it isn't going too brown. It is ready when you can put a knife in it and it comes out clean!
10. Leave to cool and then peel the parchment off and decorate it! Store in an airtight container for up to a week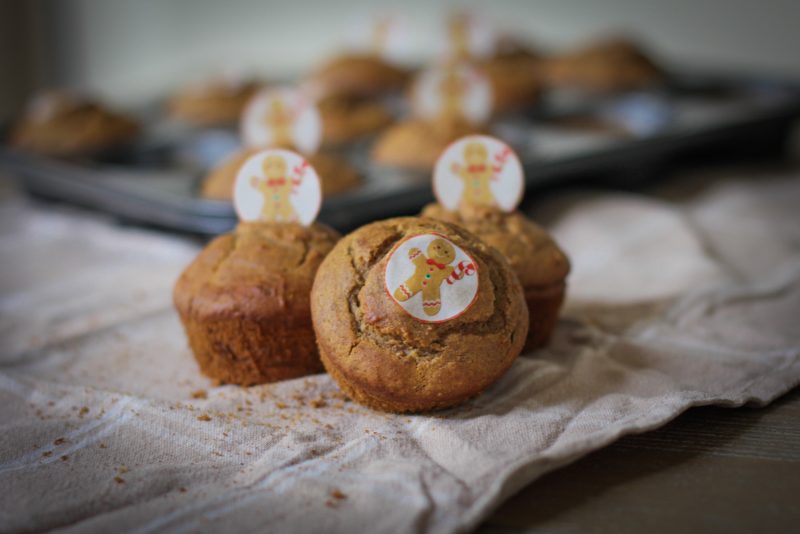 Gingerbread muffins
Prep: 20 minutes
Cook: 15-20 minutes
Serves: 12 muffins
Allergens: Egg & Dairy (optional)
Tasty Tip: Store in Tupperware straight after cooking to keep them fresh! They will last 4-5 days
Ingredients you'll need:
80g butter or coconut oil
100g honey
130g Greek yoghurt (or diary free alternative)
1 egg
100ml hot water
80g pitted dates
80g oat flour
80g teff flour
80g gram flour
3 tsp ginger
2 tsp cinnamon
1 tsp bicarbonate of soda
Gingerbread men rice paper
Implements:
12 hole muffin tray
Food processor/blender
Mixing bowl and small bowl
Wooden spoon
Tablespoon
Whisk/fork
Sieve
Cooking instructions
1. Preheat the oven to 170c (180c if not fan assisted)
2. Soak the dates in100ml of hot water in a small bowl for a few minutes
3. Measure out 80g of butter or coconut oil and add it to a blender/food processor with the dates and hot water. Blitz until smooth
4. Crack an egg into a large mixing bowl and whisk it with a fork or whisk
5. Add the date mixture (which you made step 3), yoghurt and honey. Mix thoroughly
6. Sieve all of the dry ingredients into the mixing bowl (oat flour, teff flour, gram flour and spices with the bicarbonate of soda) and stir until fully combined
7. Lightly grease your muffin tray and then spoon the batter equally into each hole with a tablespoon
8. Carefully cut our your edible rice paper gingerbread men and then either place them on top of your muffins before cooking or wait until the muffins are cooked, and make a small incision to stand them in
9. Pop in the oven for 20 minutes but check after 15 minutes to make sure they aren't going too brown (some ovens are hotter than others!)
All recipes provided by Little Cooks Co