Buy back-to-school bargains
Published
Shopping for school uniform is a chore many parents dread, but help is at hand for those wanting their cash to stretch further.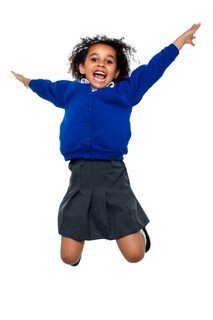 NetVoucherCodes.co.uk have looked at school uniform costs across the supermarkets and the high street so parents can cash in on the best back-to-school bargains. Researchers analysed the costs of uniforms from supermarkets such as Asda, Tesco's, Morrison's, and Aldi. They then compared them to high street shops like Next, Matalan and M&S. They found that the cost of buying a typical uniform from a supermarket can be a whopping 43 per cent cheaper than from a High Street store –£44.30 against £78.51.
Blazers and shoes are, unsurprisingly, the most costly buys. At supermarkets the average price of boy's primary school shoes is £9.88, and for girls it's £8.38. Head for specialist shoe shops and you can expect to pay double or almost triple the price, with the average price of shoes ranging between £21 to £29.
Coats from supermarkets can be picked up for around £10, but at high street shops they're almost double the price at between £16 and £20.
On average, shirts are also double the price across the board for both boys and girls when comparing supermarket prices to high street ones. Interestingly, the average price of a girl's skirt from a high street store is less (at £6.33) than one from a supermarket (£7.25). This is not the case for trousers which average at £8.67 in supermarkets, against £10.67 in High Street stores.
. . . AND SAVE THE PLANET
Looking for school gear that's both inexpensive and sustainable? Personalised clothing company, Banana Moon, has researched what can be found on the High Street:
Polo shirt
H&M – 100 per cent organic and sustainably sourced cotton, £3.99.
Shirt
ASDA – contains Better Cotton Initiative sustainably sourced cotton and recycled polyester, £2.25 (£4.50 multipack price).
Dress
M&S – 65 per cent recycled polyester and 35 per cent sustainable viscose, £9.60.
Skirt
Aldi – 65 per cent recycled polyester, £1.75.
Trousers
M&S – 85 per cent sustainably sourced cotton, £6.40.
Socks
ASDA – 77 per cent Better Cotton Initiative cotton, £0.30/pair (£3 multipack price).
Blazer
M&S – 65 per cent recycled polyester and 35 per cent sustainable viscose, £18.40.
No less than 69 per cent of parents would buy sustainable school uniform if it became more affordable, according to a YouGov survey commissioned by Banana Moon. However, currently parents would have to spend £8.40 more to purchase the cheapest sustainable blazer, and £6.61 more to buy the cheapest sustainable dress. New guidelines from the Government require schools to keep uniform prices down.