Locked-in learning
Published
With lockdown spilling into February half term, parents are getting that 'here we go again' feeling as once more they add home schooling and regular outdoor exercise sessions to the list of daily chores. We've been checking out some new items to add to your play-and-learn toolbox and bring a new dimension to challenging times.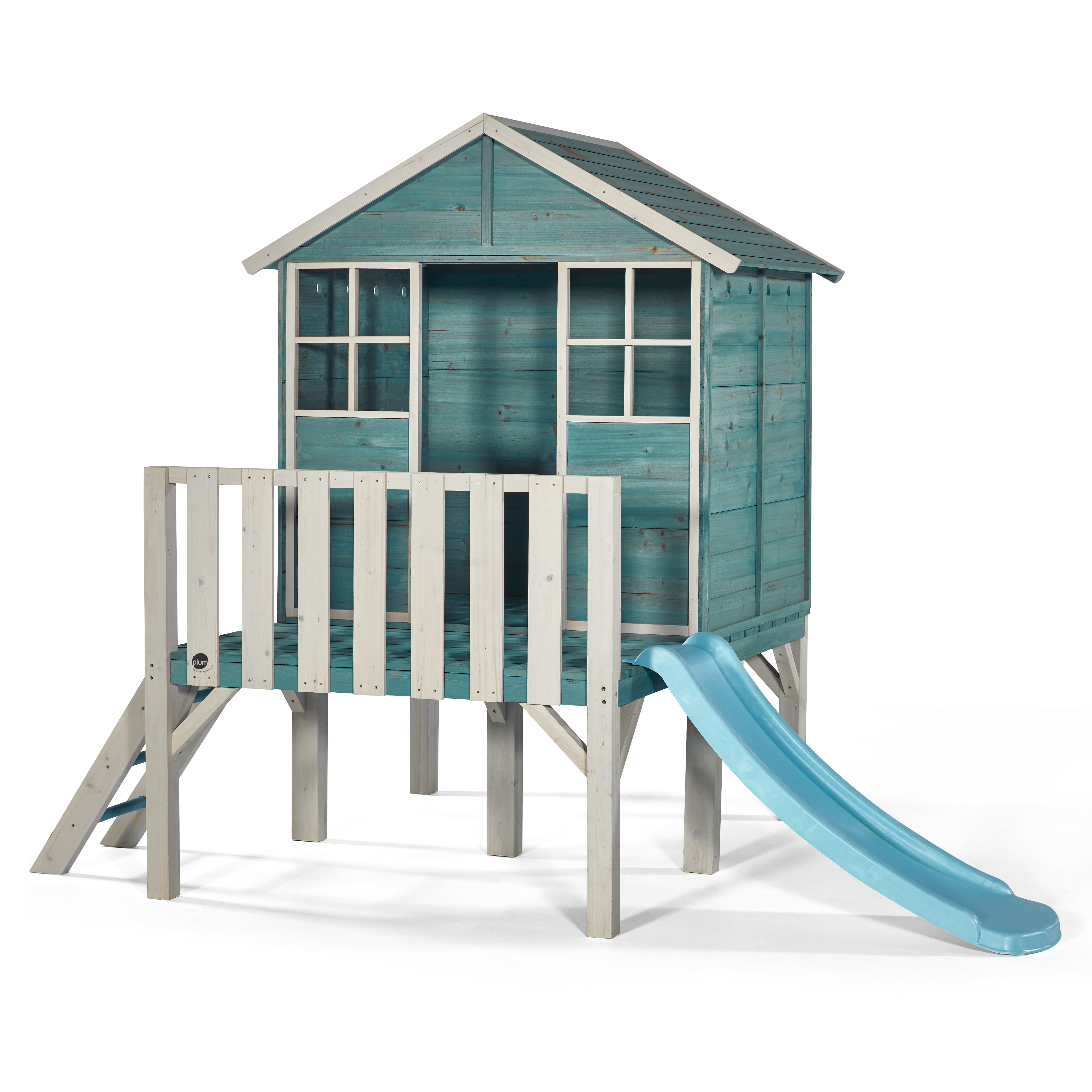 PLUM® BOATHOUSE WOODEN PLAYHOUSE
Some home-working parents, driven to distraction, have managed to build their own 'home office' in the garden! So why not create a special outdoor space for the kids too? The Boathouse playhouse (£649.99), with its traditional apex roof, is beautifully crafted and comes in a lush teal colour which looks perfect in any outdoor space. A platform allows children to climb the three-step ladder to start their adventure on deck – and there's a 1.2m slide for when they're ready to return to land. Rain or shine, it offers kids their very own imaginative space to jump onboard and sail off to wherever their imagination takes them.
Visit PlumPlay.co.uk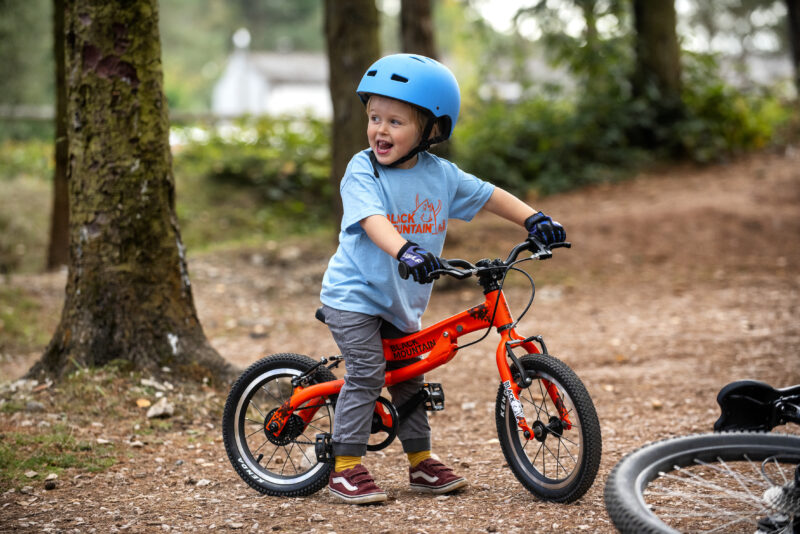 BLACK MOUNTAIN BIKES
If your child is at the point of learning to ride, what better time to get some practice in than lockdown? Just find a quiet space close to home and it won't be long before they're up and away – they'll appreciate the freedom, fresh air and exercise too. An average child goes through three bikes before the age of six. It's not just about getting bigger: it's also about developing confidence, strength and balance. Black Mountain founder, Andy Lloyd, noticed that many children's bikes on the market are mini adult bikes – heavy, with hard gears and high bars. So, working from his garden shed, Andy set himself that task of designing a lightweight kids' model – with 'growing gear' technology that allows the bike to grow with your child, and an advanced, adjustable seating position. The smaller models even transition from balance bikes to pedal bikes.
The Black Mountain range includes:
PINTO (2-4 years) - from £349
SKØG (4-6 years) - from £349
KAPĒL (5-7 years) - from £449
HÜTTO (6-8 years) - from £449
Pictured are the PINTO, SKØG AND KAPĒL.
NUMBERBLOCKS MATHLINK® CUBES
Worried that your child's early maths skills are slipping after time away from the classroom? Learning Resources® have partnered with BAFTA-winning CBeebies to launch Numberblocks MathLink® Cubes 1-10 Activity Set (£20). For use at home and school, the set is based on popular MathLink Cubes – the 2cm cube linkable construction toy for hands-on maths learning. It allows kids to play along with Numberblocks episodes on TV and develop maths skills through play –including counting, sequencing, addition, subtraction, number recognition and problem-solving.
The set contains everything three-to-five year olds need to build the Numberblocks characters Zero to 10 in all forms seen during TV episodes. It includes 100 Numberblocks MathLink Cubes, Numberlings, character cards, double-sided write and wipe activity cards, stickers, and a supporting guide. Children use MathLink Cubes to build the characters, get to know more about them using the Character Cards, and follow the 30 maths activities created to complement the episodes.
Visit Amazon or www.learningresources.co.uk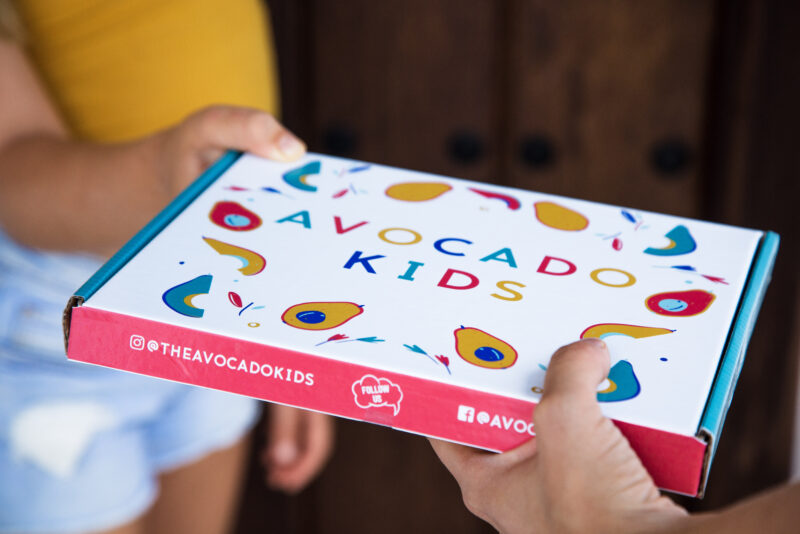 AVOCADO KIDS SUBSCRIPTION BOX
Looking for ways to bring the family together around mealtimes? And to introduce fun cooking activities that teach kids about cooking and healthy eating, as well as how to be kind to each other and to the planet.
This new subscription box offers fun 'edible education' as kids follow superfood superhero, the Avocado Kid, to a different location in the world each month. Children aged 4+ can become super chefs too, discovering more about food through enticing recipes, kindness cards, table topics for family discussions and much more.
Delivering monthly to the UK and Ireland, straight to subscribers' doors, Avocado Kids subscription boxes cost £15.99 monthly, with one-off boxes costing £24.99. A free branded apron (which turns into a superhero cape) will be given with every 6 & 12 month subscription.
Visit www.avocadokids.com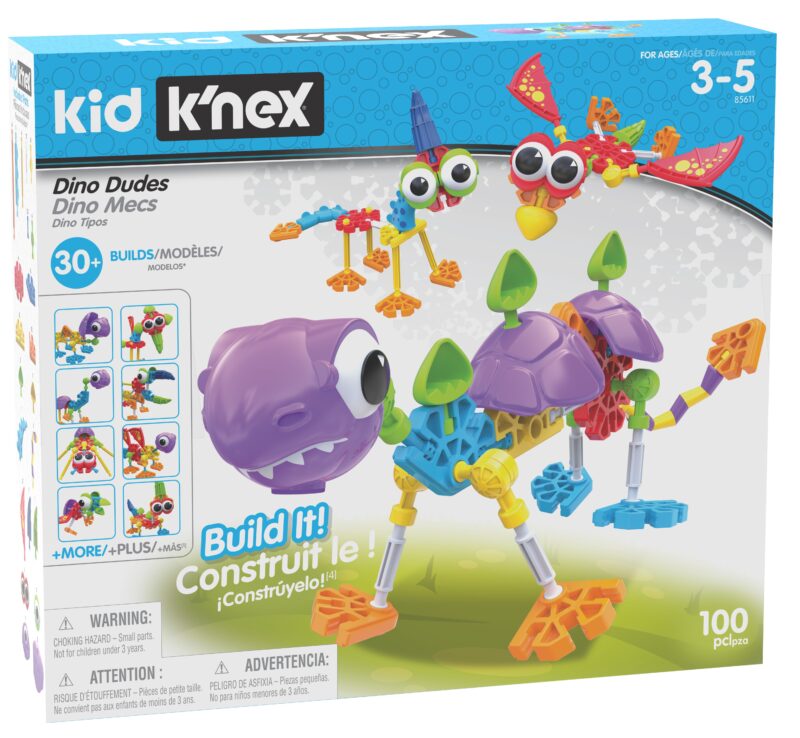 K'NEX KIDS DINO DUDES BUILDING SET
There can't be an under-five in the land who doesn't love dinosaurs, and here's a toy that not only fosters creative and imaginative skills, but also develops hand/eye co-ordination, problem-solving skills and spatial awareness. The building set (£35) includes 100 large, soft pieces, perfect for children of age 3+ . There are 30 different fun dinosaur buddies to make, complete with eyes, wings, shells, spikes, tails, and more.
Visit www.argos.co.uk/sd/knex/