Light up Christmas!
Published
Check out our fabulous pick of top gifts – each one guaranteed to wow your child on the most special morning of the year.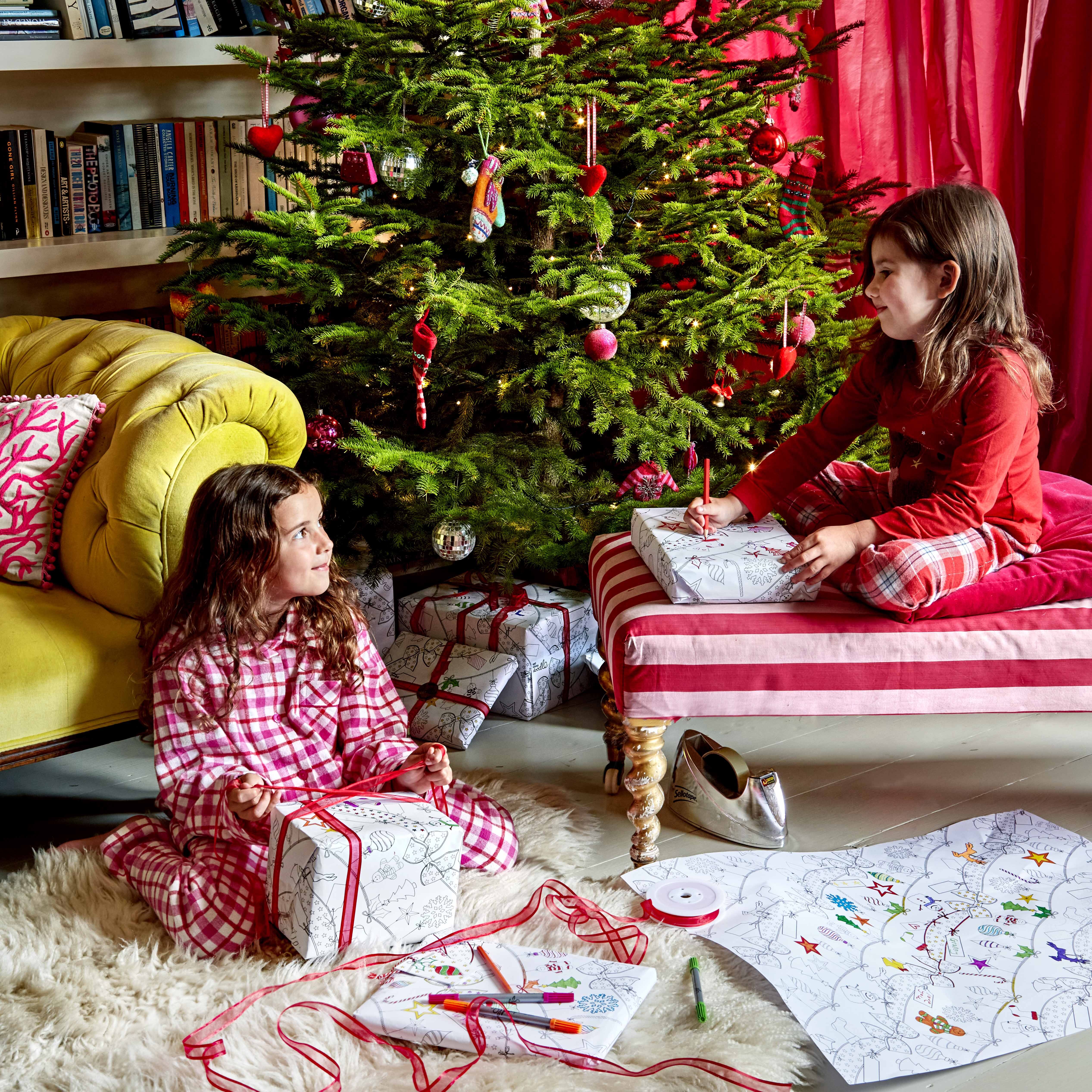 FESTIVE DIY!
From £4.95 from eastsleepdoodle.com
Age 2+
Here's a selection of festive craft activities to buy in the run-up to Christmas, for your child to colour-in and customise.
Colour-In Christmas Stocking (£14.95) comes with a set of 10 wash-out pens! Kids can colour in-all their favourite festive icons from Father Christmas to Rudolph and jingle bells and there's space for them to write their own Christmas list ready for Santa. The stocking can be reused again and again –just pop it on a warm wash and the ink disappears.
Colour-In Christmas Wrapping Paper (£4.95) adds an extra-special touch to Christmas gifts. Decorate with ribbons, reindeer, stars, stockings and more for your own personalised touch. Pack contains 3 sheets of wrapping paper.
Colour-In Christmas cards and gift tags (£7.95) makes gifts really personal as children can colour-in and add their own messages to these festive colour-in Christmas cards and tags. There's a variety of images to choose from, including snowmen, Santa and festive baubles.
Great as a festive activity in the run up to Christmas and a lovely way to personalise gifts. Pack contains six cards and envelopes, six tags and festive ties.
Visit www.eatsleepdoodle.co.uk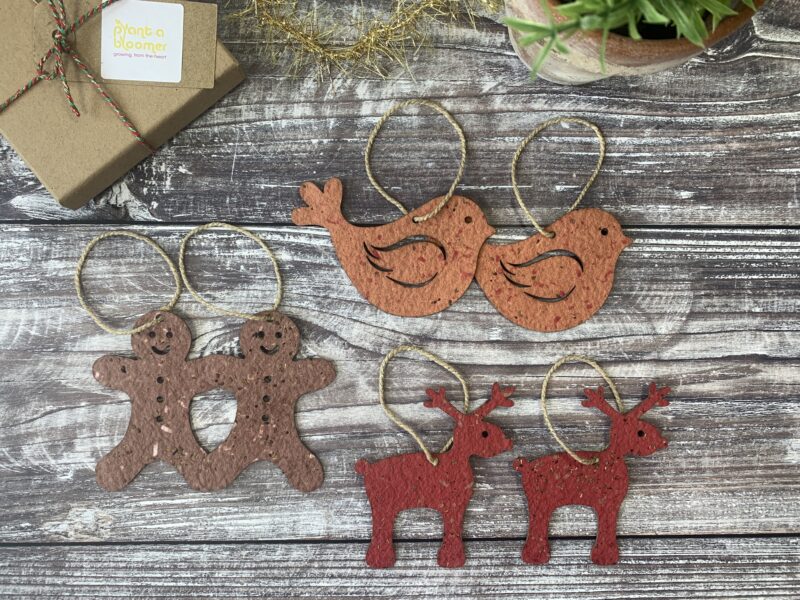 PLANTABLE XMAS TREE DECORATIONS
£25 from Plant a Bloomer
Age 3+
This set of six cute children's tree decorations can be planted after Christmas to grow wildflowers! They are made from a specially handcrafted seed paper containing wildflower seeds. When 'planted' the paper breaks down into the soil — and the seeds germinate to produce seedlings. Suitable for planting indoors all year round or outdoors from springtime, the seedlings should start to appear 3-7 days after planting and flowers after 2-3 months. Planting instructions are included.
Including two reindeers, two robins and two gingerbread men decorations, each with a gold flecked twine loop, the cute characters will make a delightful addition to your Christmas tree. Afterwards, rather than packing away, plant and watch them grow! They are supplied in a sturdy reusable cardboard gift box, finished with a sparkly festive twine and suitable for posting through a letterbox.
Visit www.plantabloomer.com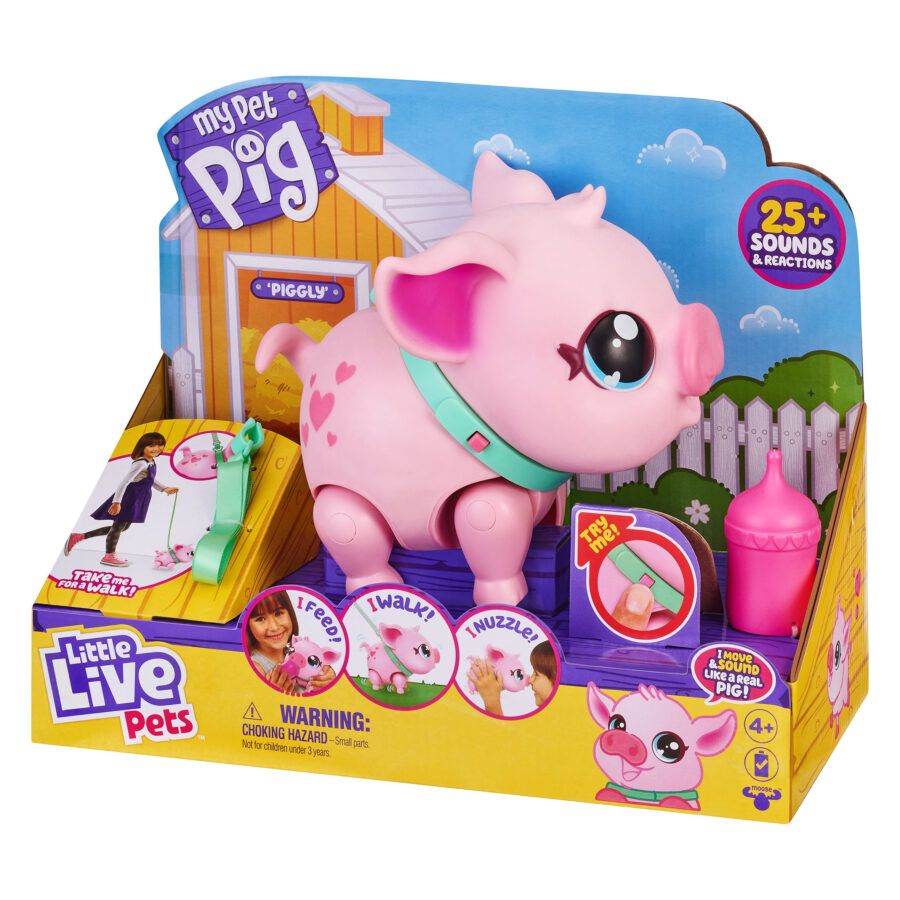 LITTLE LIVE PETS MY PET PIG PIGGLY
£24.99 from Character Options
Age 4+
Pig Piggly loves taking a walk on the leash, along with cuddling, dancing and feeding from her own special bottle. With super-soft skin, a wiggly tail and a range of 25 sounds and responses, she makes the cutest companion. Her nose snuffles and sniffles as she nuzzles in for a cuddle. A loveable 'pet' that children will enjoy taking everywhere with them.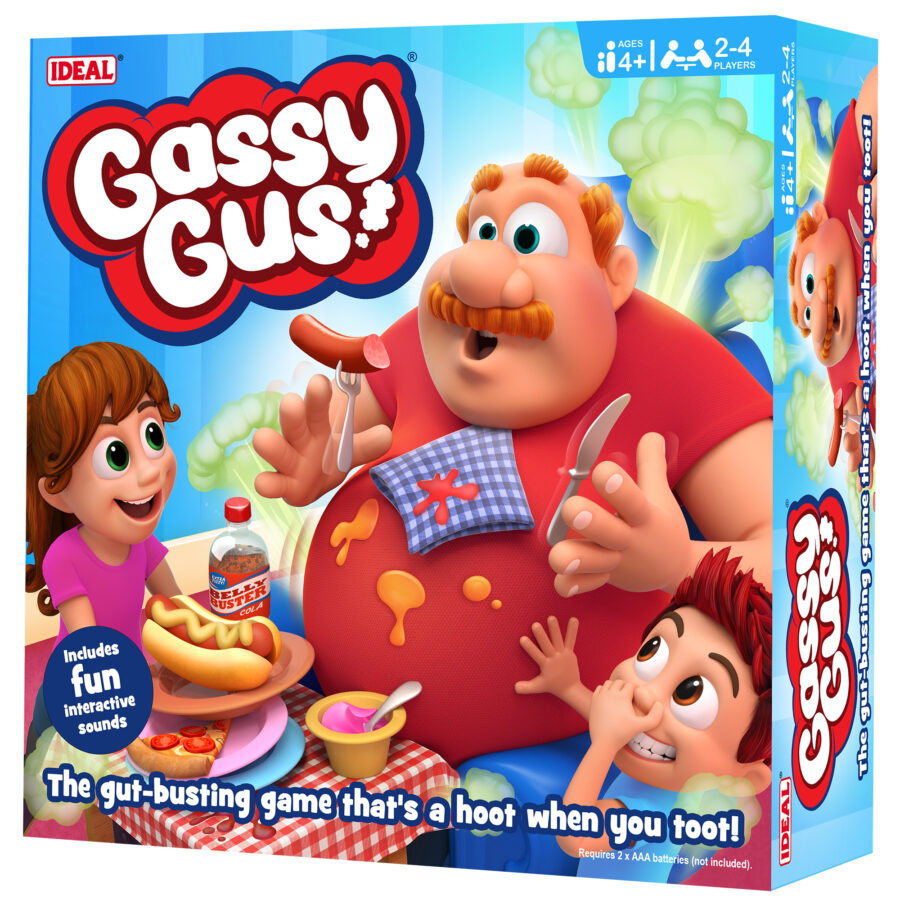 GASSY GUS
£24.99 from John Adams
Age 4+
Gassy Gus is the fastest and most furious eater around, so there's no time like Christmas for letting him out of the box! The problem is, the more Gus eats the gassier he gets. Players take it in turns to feed Gus all sorts of food (via food cards) while pumping his head and watching his belly expand. But beware! if Gus passes wind on your turn, you must take extra food cards. The first player to feed Gus all of their food cards is the winner. For two to four players, this is a fun game for all the family – with a cautionary Christmas message!
Visit www.johnadams.co.uk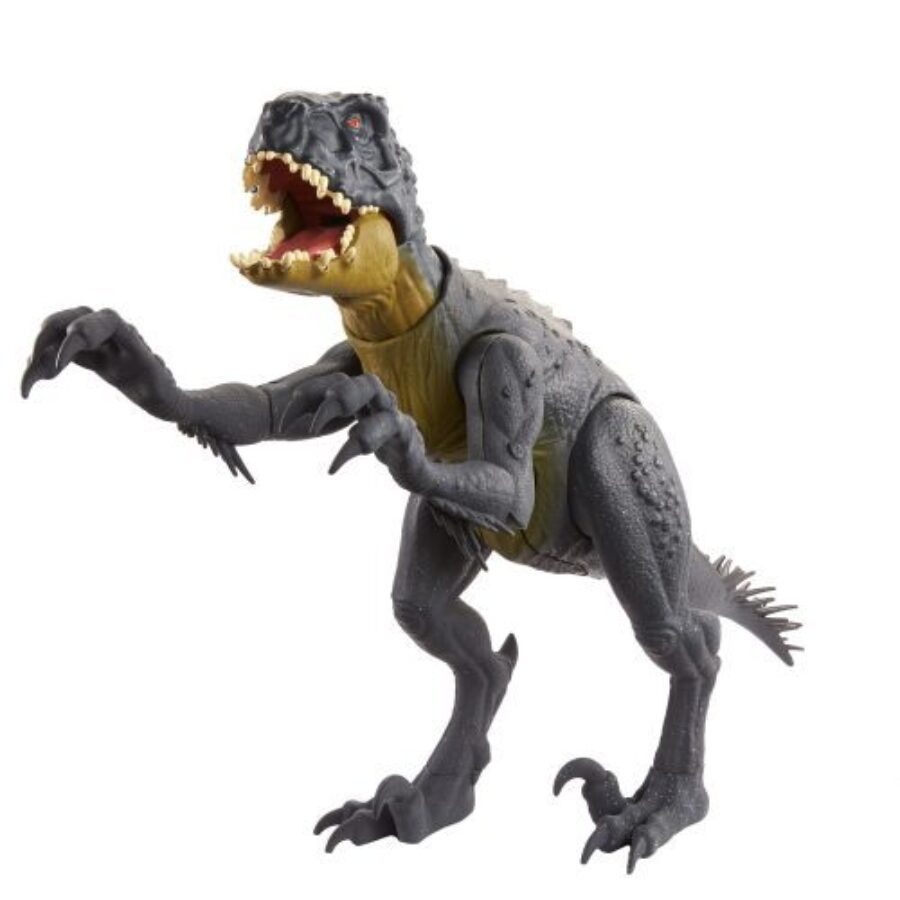 JURASSIC WORLD SCORPIOS REX
£31.99 from Mattel
Age 4+
This larger-scale dinosaur with his deadly poisonous quills is based on the animated series Jurassic World: Camp Cretaceous. He features a powerful claw- slashing feature, a chomp and roar, and a mighty tail whip attack. If you press his button, he'll unleash a full-on extending arm slash and grab attack! A fabulous gift for dino lovers everywhere.
Visit www.mattel.com, available from Smyths Toys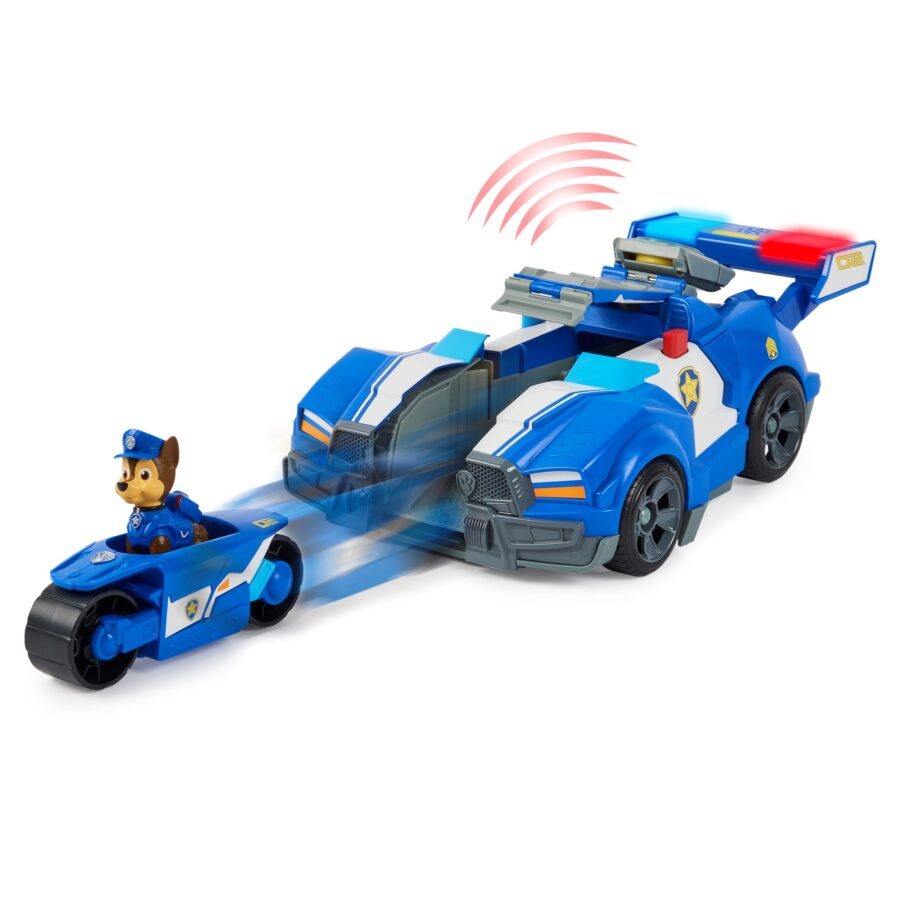 PAW PATROL CHASE TRANSFORMING CITY CRUISER
£44.99 from Spin Master Toys
Age 3+
Save the day with Chase and his 2-in-1 police car and motorcycle, featuring authentic Paw Patrol the Movie details and graphics, a projectile launcher, flashing lights and realistic sounds. Place Chase in his police car and race to the rescue. Push the yellow button to activate the lights and sounds and protect Chase from falling debris by transforming into armour mode. Armour up the vehicle, load the discs (three included) and press the button to launch and take down obstacles. Hit the red button to open the vehicle's inner compartment and to launch Chase and the motorcycle. A thrilling toy that reflects the movie and really brings Chase's adventures to life.
Visit www.spinmaster.com