Cool kids
Published
Not only is water great for cooling kids down on hot summer days ­ it's a perfect way to introduce them to new learning concepts too. So let them splash about getting wet, wet, wet with our tried-and-tested water toys.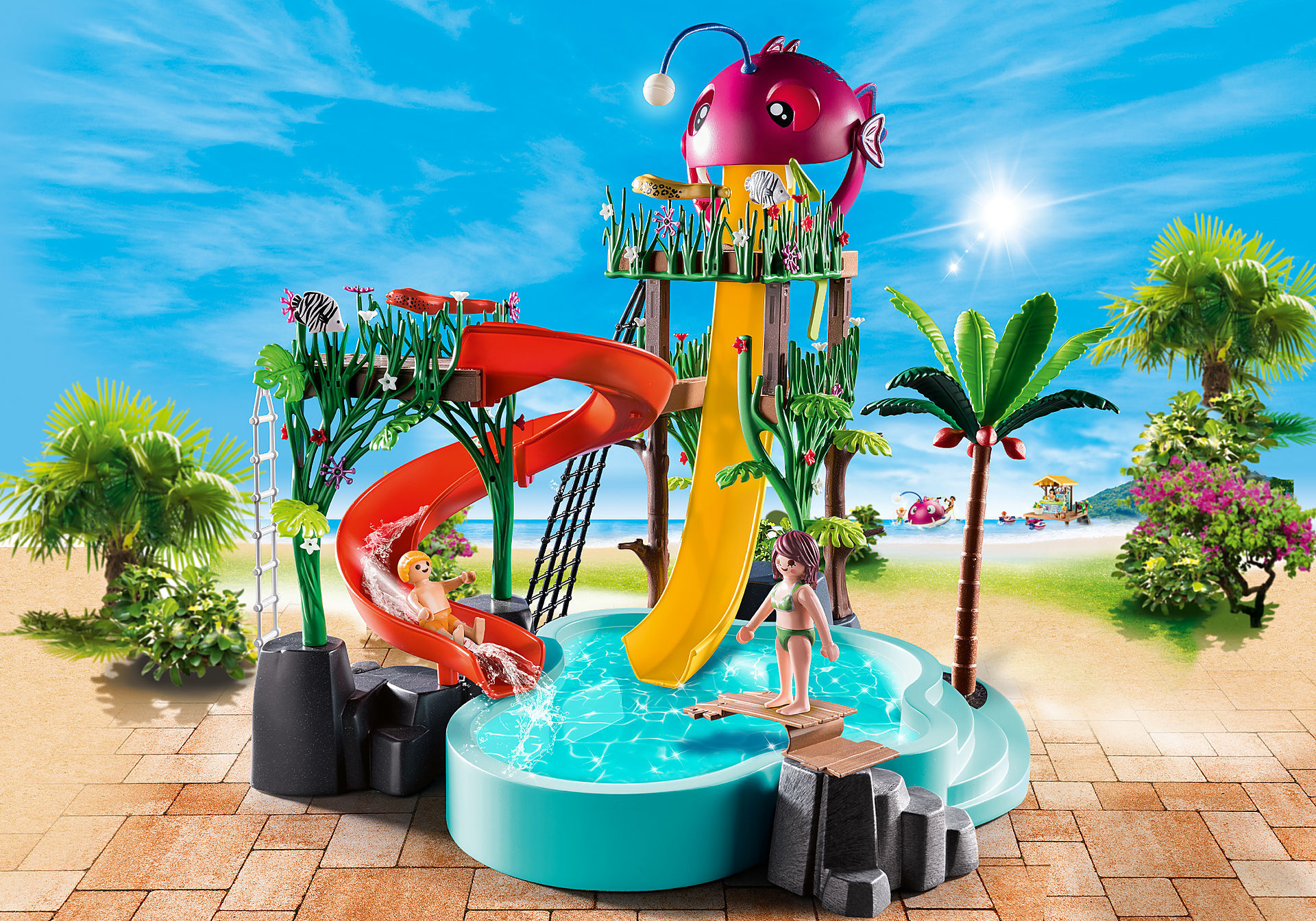 WATER PARK WITH SLIDES
Price £49.99
Maker Playmobil
Age 4+
Surrounded by tropical plants and flowers, the large Water Park with Slides features a spiral slide, a free-fall slide with trapdoor launch and a diving board. The pool can be filled with water and all routes lead to a refreshing splash! Dimensions are: 44.5L x 42D x 44Hcm. A Playmobil Aqua Park Swimmer helps children to learn about the effects of the sun, as the character turn a darker shade of red the longer it is exposed to UV light. Further 'props' include a palm tree, fences and flower, fish, a climbing net and more.
Six accessory sets in this play theme add more watery thrills: they include a Children's Pool with Slide; a Small Pool; a Swimming Island and a Paddle Boat Rental centre – complete with juice bar.
Visit www.playmobil.co.uk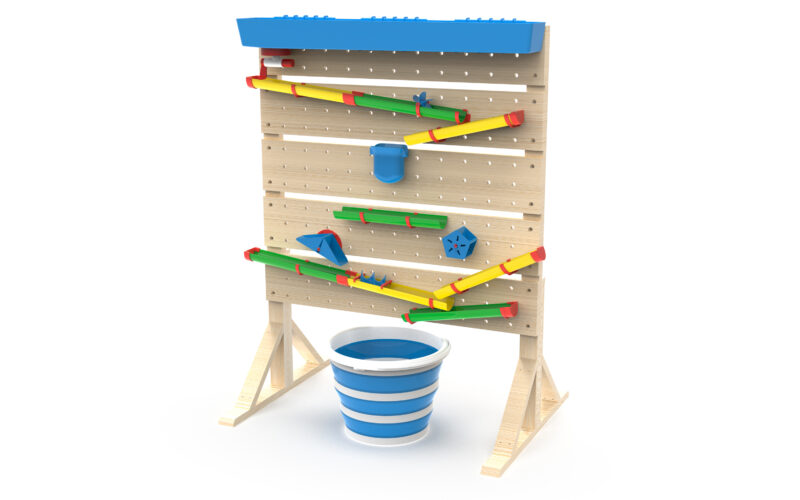 PLAYHOUSE WATERWALL
Price £99.99
Maker Wilton Bradley Ltd
Age 3+
Teaching kids about gravity, angles and water flow, this wall features a range of modular accessories allowing kids to have fun creating their own water flows and using their problem-solving skills as they pour water from the top.
Made from weather-resistant, sustainably-sourced wood, Waterwall blends perfectly into the garden and can be left outdoors all year round. It can also be used indoors, thanks to the bucket (included) which catches water when it reaches the bottom. The interchangeable modular pieces allow for thousands of different combinations and accessory packs are available to extend its play possibilities.
Visit www.wiltonbradley.com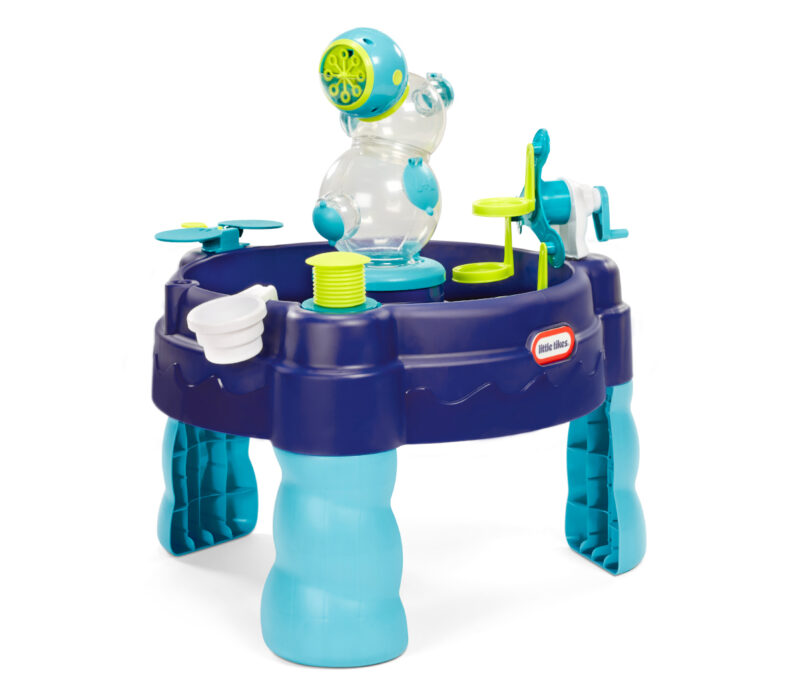 FOAMO 3-in-1 WATER TABLE
Price £77.99
Maker Little Tikes
Age 2+
For kids who loves bubbles, this is a must! It features both a bubble machine and a foam machine with a motor. The centre tower fills up with foam, which overflows out of the openings. Together with a range of cool water play accessories, there's a Ferris wheel that spins and picks up foam, and a fun foam clapper. Any household soap or bubble solution will work, so the water table can always be filled with bubbles. Dimensions are 65L x 65W x 73.6H cm and batteries are required.
Visit Smyths Toys or littletikes.co.uk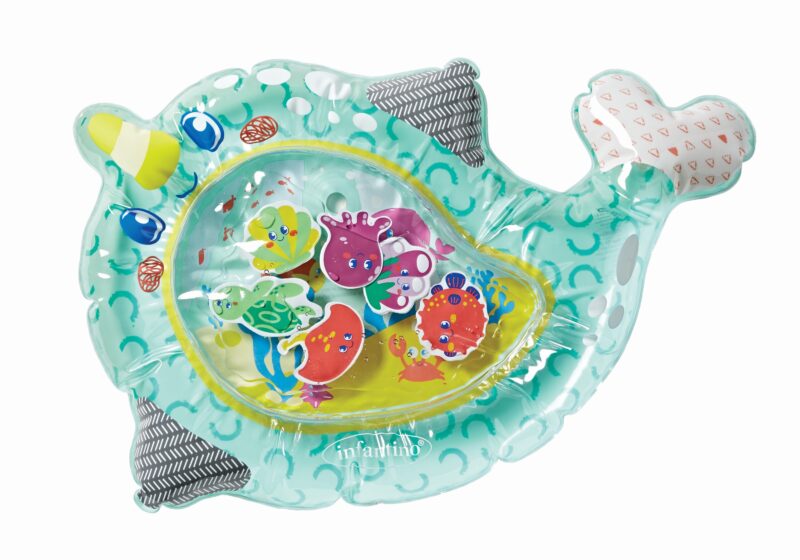 NARWHAL PAT & PLAY WATER MAT
Price £13
Maker Infantino
Age 3 months +
Discover your own interactive aquarium and explore the magical underwater world of sea-life. This bright, Narwhal-shaped toy has an extra-large mat, ideal for early development and for muscle-strengthening during tummy time. Simply fill it with water at playtime, then drain and fold when the fun is over.
The Pat & Play Water Mat is BPA free and safe for little ones, and it comes complete with six floating sea pals.
Visit www.argos.co.uk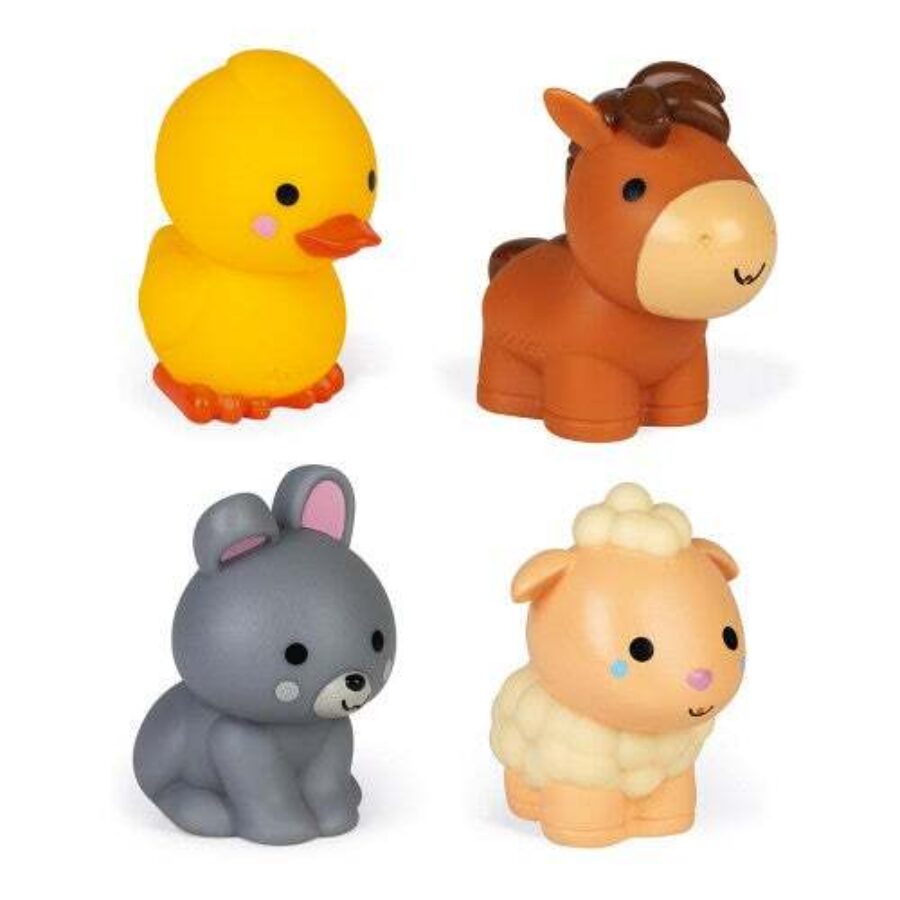 JANOD BATH TOYS
Prices from £5 - £13
Maker Janod
Ages 10 months – 3 years
Water play isn't just about big splashes – it's about the smaller ones too. And there's no better place to have some watery fun all year round than in the bath!
Here's a range of inexpensive bath toys from iconic French brand Janod that will bring a new dimenson to bathtime.
Farm Squirters, £8.99, 10 months+, available from yesbebe.co.uk
Available in sets of four themed toys including a farm, these cheeky characters are simple to grip and toddlers can easily squeeze them to shoot water, ­ hopefully not in mummy's eye!
Activity Buckets, £12.99, 10 months+, available from jojomamanbebe.co.uk
Five pastel-coloured buckets to keep little ones busy through bath time. Each has an easy-grip handle, a number and an appealing animal design, and there are different-shaped holes in the bottom for the water to trickle through. They're perfect for the beach too.
Colour in the Bath, £5, 3 years+, available from kidly.co.uk
These six colourful bath crayons allow kids to colour in the bath without making a mess. Parents will be pleased to learn that the crayons simply wipe away using the starfish sponge.
Explorers Map, £13, 3 years+, available from kidly.co.uk
Made from 28 pieces of soft foam, the Explorers Map encourages children to learn about the world and different continents as they build the puzzle – all from the comfort of the bathtub! Stick the foam against the bathroom tiles to rearrange and build the complete map. A mesh storage bag is included.
5 WAYS WITH WATER
Develop motor skills
Children will increase their fine motor skills and hand-eye coordination through actions like pouring, squirting, scrubbing, stirring and squeezing.
It's an amazing sensory experience, introducing them to textures and temperatures. It will also help them to master the pincer grip, enabling them to hold a pencil correctly at school.
Problem-solving skills
Playing with water allows children to explore a substance and make discoveries about it. Observing a branch or paper float or sink will teach them, in a very practical way, how and why things happen. But above all, it encourages them to use their imagination and to develop creative thinking and problem-solving.
Language development
Just talking to kids about what they are doing will enhance their language skills. There are many new words associated with water that children can learn in the play process: Damp, Depth, Drain, Flow, Drenched, Drizzle, Sieve… are just a few.
Social-emotional growth
It can be both invigorating and calming for young children to play with water. Repetitive activity (such as scooping, pouring and running their hands through the water) can help them to unwind. More boisterous play, like using sprays and splashing in water, can let off steam. Water also has a role to play in encouraging social skills like cooperation and sharing, as kids learn to take turns and share accessories with their friends.
Science and Mathematics learning
Water play can teach basic mathematics as it introduces children to concepts such as full, empty, half, less. With water, you can measure, compare volume and observe motion. Do make sure your children are supplied with buckets, cups, sifters, empty bottles and so on.