Four perfect Easter treats
Published
Get into the Easter groove with our eggcellent seasonal recipes from Organix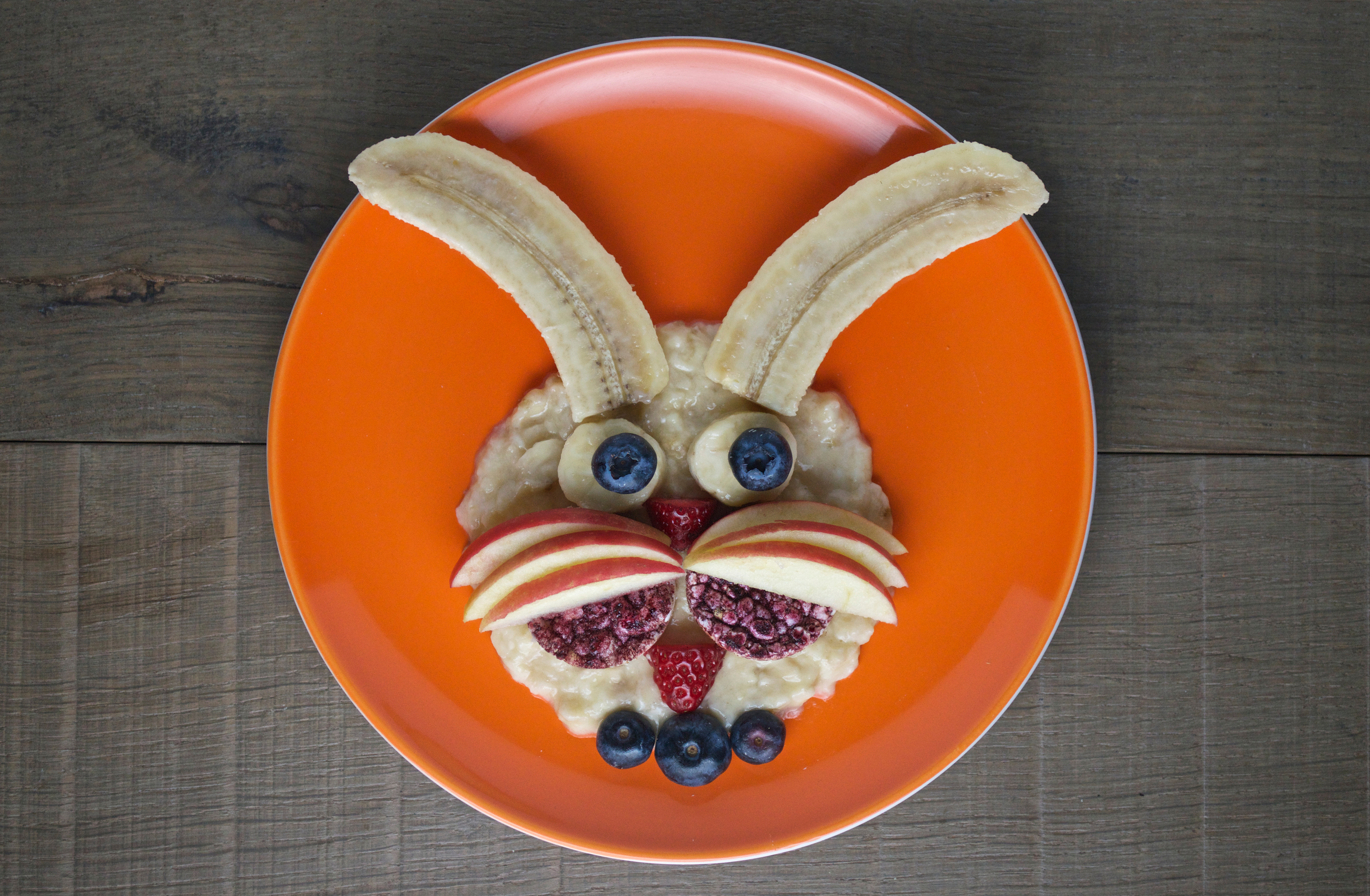 Friendly Rabbit Fun Plate
Age 10 months +
Prep: under 10 mins
Cooks in: N/A
Serves: 2
Vegetarian/ Vegan/ No Dairy/Gluten free No allergens


Ingredients
2 Organix raspberry and blueberry rice cakes
1 small banana
¼ apple
1 strawberry
5 blueberries
Method
Peel banana and cut in half. Mash one half into a puree, and cut two round discs off the other half. Then cut the remaining piece in half lengthwise from top to bottom.
Be safe! Blueberries should be cut in half until your child is able to chew foods safely.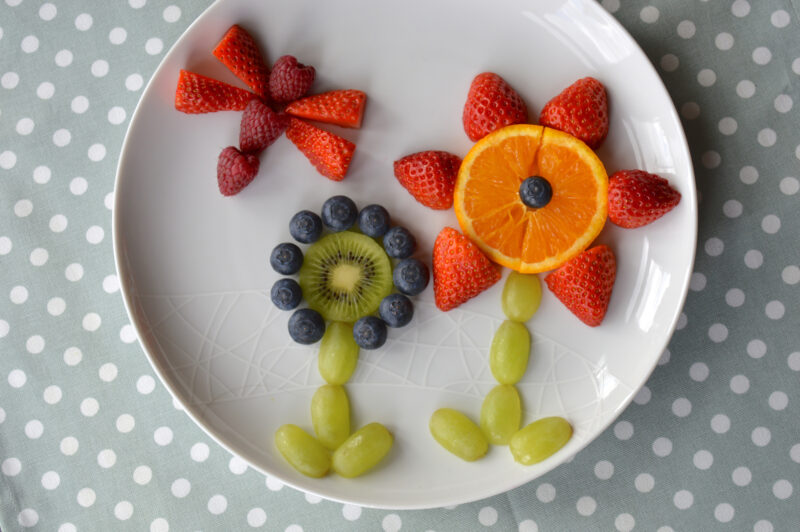 Flower Power Fun Plate
Age: 12 months +
Prep: under 10 mins
Cooks in: N/A
Serves: 2
Vegetarian/ Vegan/ No Dairy/Gluten free
No allergens
Ingredients
4 strawberries
5 green seedless grapes
1 kiwi
1 orange
3 raspberries
10-12 blueberries
Method
First wash and dry all of the fruit, then prep; slice 3 strawberries in half and 1 into quarters lengthways. Slice all the grapes in half, lengthways. Peel the kiwi and cut in half then cut a thick round slice from the middle. Cut the orange in half and cut a thick round slice from the middle. As the orange still has it's skin, cut this slice in half down the middle – so that it can be picked up and bitten into easily (or peel if you prefer).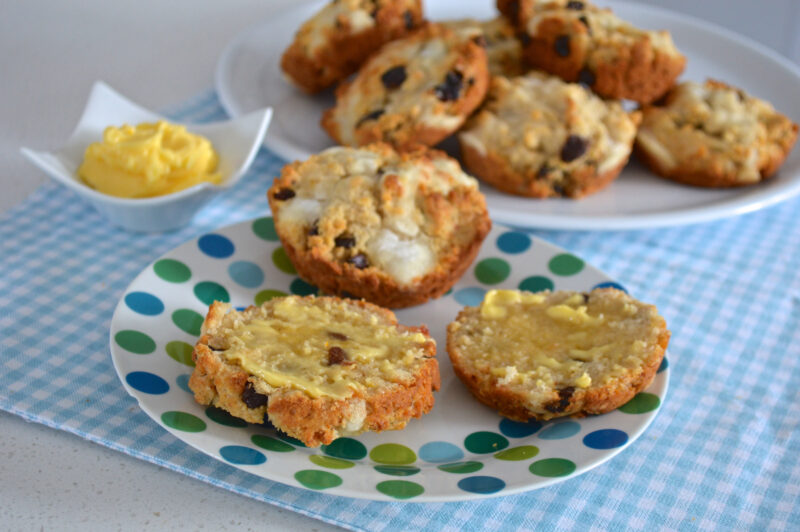 Gluten Free Hot Cross Muffins
Age: 12 months +
Prep: 10-30 mins
Cooks in: 10-30 mins
Serves: 10
Gluten free/Vegetarian
Ingredients
500g gluten free flour blend
2 tsp gluten free baking powder (add only if it's not included in flour blend)
½ tsp mixed spice
1 tsp cinnamon
100g raisins
Zest of 1 orange 150g unsalted butter
3 eggs
300ml whole milk
2 tbsp honey
Paste for the cross
30g gluten free flour blend
2 tbsp water
Method
Pre-heat your oven to 200°C / 180°C fan / gas mark 6.

Sieve the flour then combine with all the dry ingredients in a large bowl.

Gently melt the butter then combine with all the wet ingredients in a large jug. Mix the wet ingredients with the dry and stir gently to just combine - don't over mix.
Spoon the mixture into a large well-greased muffin tin or muffin cases.
Mix the remaining flour and water to a smooth paste, then spoon into a plastic food bag or piping bag. Snip a very small hole in the corner and pipe a cross onto each bun (make sure the hole is very small so your crosses aren't too thick).
Bake for around 20-25mins until golden and cooked through. Serve still slightly warm from the oven, cut open and spread with a little unsalted butter.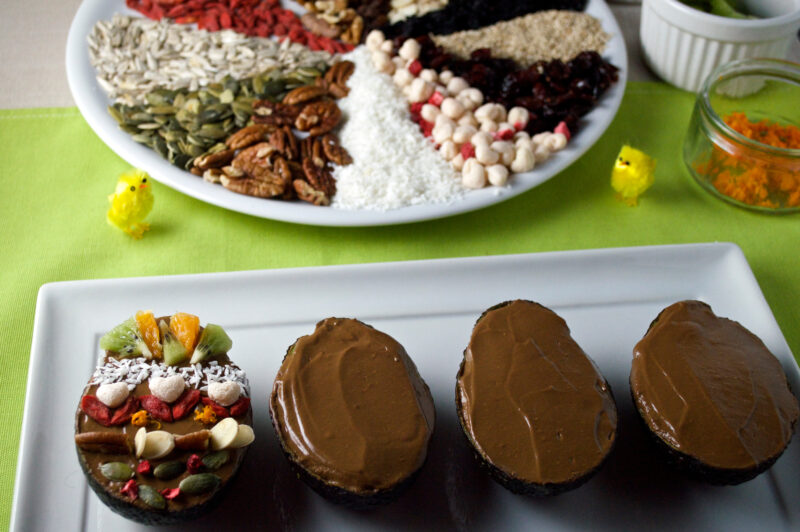 Avocado & Chocolate Orange Easter Eggs
Age:12 months +
Prep: 10-30 mins
Cooks in: N/A
Serves: 4
No dairy/ Gluten free / Vegan/ Vegetarian
No allergens
Ingredients
Mousse:
2 ripe avocados
Juice and zest of 4 oranges
6 tbsp cocoa powder
1 very ripe banana puréed (or 2 tbsp maple syrup if you prefer)
1 tbsp organic raw coconut oil for extra creaminess (optional)
Decorations (all optional suggestions):
Orange zest
Seeds – sunflower, pumpkin, sesame seeds
Dried fruit – raisins, cranberries, goji berries
Fresh seasonal fruit – mango, grapes, oranges, banana, apple, pear
Desiccated and flaked coconut
Nuts – flaked almonds, pecans
Method
Cut both avocados in half from top to bottom. Carefully remove the stone by gently hitting the knife into the stone, giving it a little twist – and the stone should easily come out. Scoop the soft green avocado flesh into a bowl or blender but be careful to keep the shell of the avocado intact, as this will become the natural, egg shaped bowl for the mousse.
Zest all of the oranges and put 4 tsp. of zest to one side for decoration. Then add the rest of the zest and the remaining ingredients to the blender/bowl and blend or beat with a wooden spoon until completely smooth.
Test the taste of the mousse and add a little maple syrup if you feel the need, then scoop back into the avocado shells to create your chocolate orange eggs.
You can keep the eggs in the fridge until ready to decorate and serve. Approx. half an egg is a good sized serving for a little one.
Serve the chocolate orange eggs with a range of tasty decorations at the table, for the family to decorate their own eggs however they please. Make sure your decorations are appropriate for the age of your child – so halve/slice grapes and chop any nuts etc.
Visit Organix.com