Play Potential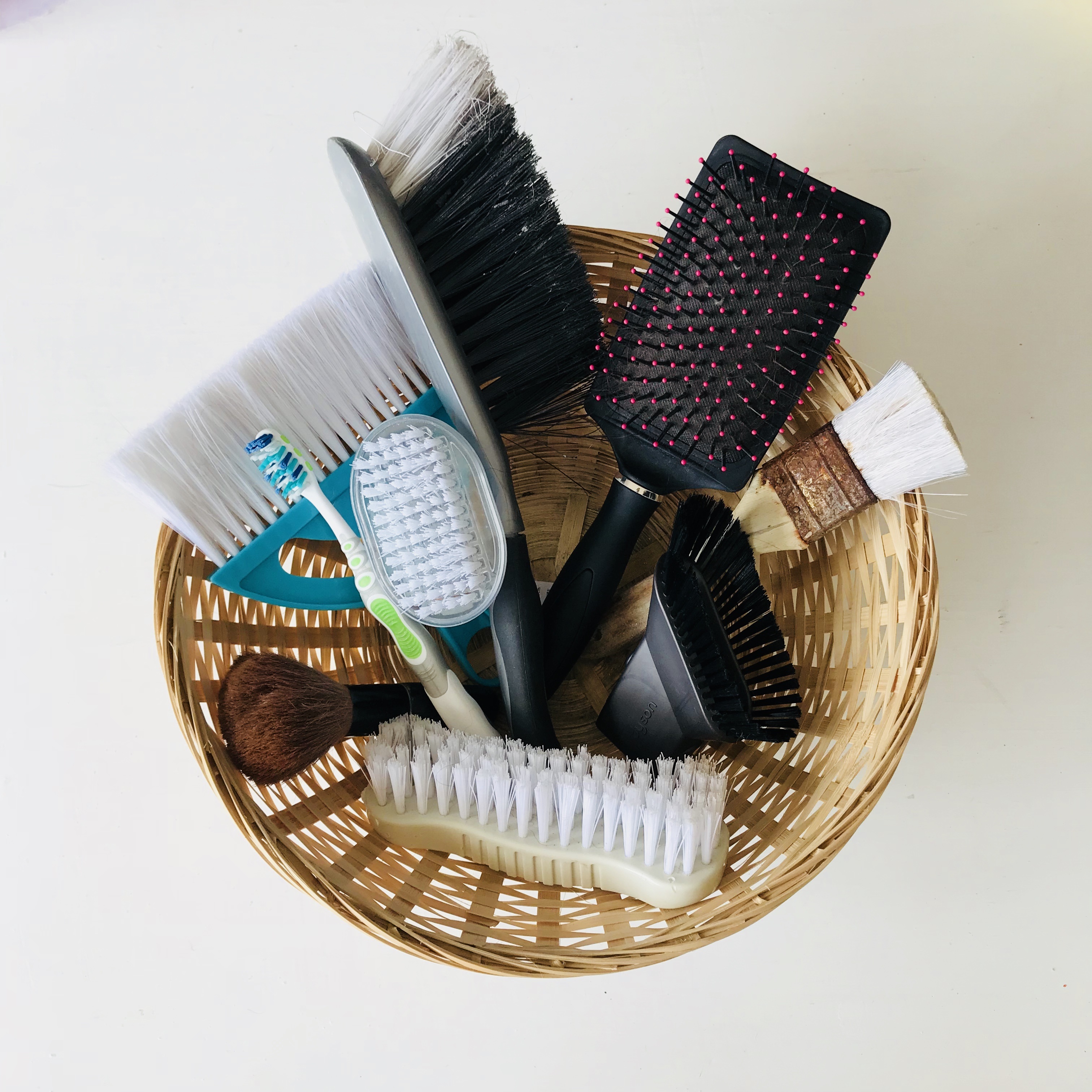 Do you feel like your home is drowning in toys, particularly after Christmas? Do you ever look at the kids playroom, bedroom or your lounge floor and wonder if they'd actually notice if you got rid of half of their toys?
Well the good news is that kids really don't need all of that 'stuff', in fact by providing children with less choice you are supporting them to concentrate for longer period of times, in some cases independently. They will reinvent and find creative new ways to play with their existing toys. Plus it makes tidying a whole lot easier!
Even better, you don't actually need a home full of expensive toys to get kids playing. Have you ever thought about the 'play potential' which lies in everyday household items? Think about the times you've found your little one taking a trip to the moon in a cardboard box or merrily making music with a wooden spoon and pan.
I'd love to challenge you to take a look at what you already have at home that might create some entertainment while providing an opportunity for your child to learn (and maybe giving you five minutes peace to put your feet up!).
The kitchen is the perfect place to start. What's in your cupboards which might provide some entertainment value. For example, pots and pans, spoons, mashers, fish slices, tongs, measuring cups, muffin trays, ice cube trays, bowls, jugs and many many more things all have plenty of play potential. Perhaps you could save a few old ones for your child (waste not want not) or pick some cheap utensils up in a pound shop. Or of course, you can use the ones you already have but be sure to give them a good scrub before they go back in the cutlery drawer! Simply add pasta, rice, cereal, water, ice, mud, paint, shaving foam or custard for a bit of messy play (keeping some old towels on hand for those inevitable spillages!).
Make a collection of a variety of brushes for your little one to explore the unusual texture!
Why not use them in water or paint?
The other rooms of your house hold just as much potential for items which you can use with your young child to initiate play. I've listed a few of my favourites below, but there is lots more!
tablecloths or bed sheets
trays or storage boxes
baskets
notebooks, writing pads, diaries, calendars
toothbrushes, scrubbing brushes, hairbrushes, dustpan and brush
mirror
gadgets such as phones and calculators
rolls of old wallpaper!
Tubes are great for pouring and rolling! Use a collection of beans and chickpeas for little hands to scoop and drop down the tubes! Lots of simple fun!
Why not have a rummage through your recycling box too! It's a particularly great place for arts and crafts materials i.e. bottles, boxes, paper bags, envelopes, junk mail and toilet rolls to name just a few. If you'd like some ideas on how to use these kinds of items then why not download the brand new playHOORAY! Web APP - it's completely free!
Before you throw that junk mail in the bin why not reuse it! Let your little one use it to make a pretend post office by stamping, writing and sticking on it! They will love it!
Wow! That play cupboard is looking pretty impressive now isn't it?! And not a toy in sight! But there is one more place to look - the garden! Come summer or winter, the great outdoors is a treasure trove of natural resources which are perfect for initiating everyday play - pebbles, sticks, pine cones, conkers, shells, leaves, bark, even snow! It's also a great opportunity to get some fresh air in the process too!
Of course, it's unrealistic to expect not to buy any more toys for your children, but next time you are purchasing a toy, ask yourself what it's 'play value' is. For example, although they perhaps don't look as nice as wooden toys plastic ones such as small world people, animals and vehicles, or plastic tea sets, offer so much more versatility i.e. using them in water trays, for messy play activities, or in the bath.
And if you are considering donating a few of their pre-loved toys to charity post-Christmas then do take a read of Claire's blog post full of tips on clearing out the crap!
Happy playing!
Mum to one and Early Years Specialist, Claire Russell is founder of playHOORAY! and the designer of playPROMPTS activity cards designed to equip parents with realistic, fuss-free play ideas. For further information and to download the NEW playHOORAY! App packed with free play ideas please visit www.playhooray.co.uk. You can also tune in to Claire's live play demos every weekday at 10am on www.instagram.com/play.hooray and www.facebook.com/playhooray.uk or join any of the 10 supportive playHOORAY Facebook community groups where you can ask questions, get further inspiration and share your own play experiences.